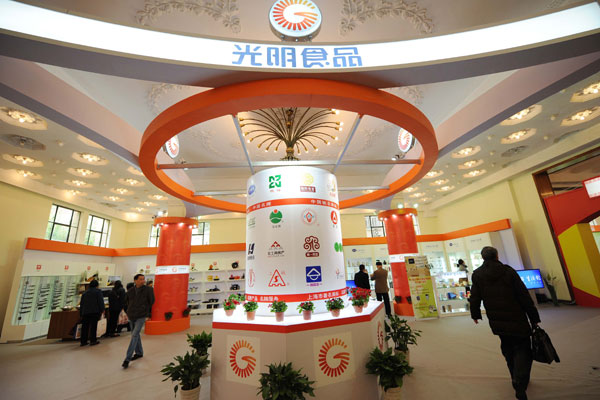 Bright Food (Group) Co Ltd's display at a trade show in Shanghai, May 23, 2014. [Provided to China Daily]
Bright Food (Group) Co Ltd plans to establish an e-commerce platform for its fresh food. The company has launched a micro mall for mobile devices as a base for its e-commerce approach, but is still seeking to discover a new online business model, National Business Daily reported.
NBD also reported that China National Cereals, Oils and Foodstuffs Corporation, China Yurun Food Group Limited, and Henan Shuanghui Investment & Development Co Ltd, have also outlined their plans to set up e-commerce platforms, to attract more consumers in addition to their traditional retail sales.
The online retail market in China has become sophisticated with more and more Chinese consumers actively shopping online. Some analysts said fresh food retailers need to improve their supply chains, logistics and distributions to stand out in the fierce competition.
Despite the enormous business opportunities, retailers face common issues in cold chain distributions, storages and consumer experiences. NBD writes that online food and beverage sales faces challenges in distribution and food safety in third- and fourth-tiered cities.
"For the fresh food category, it's mostly about meat, vegetables, and dairy products, and all the e-commerce platforms have similar products," said e-commerce sector analyst Lu Zhenwang. "The quality, price and consumer experiences are the key factors for companies to excel against the competition."