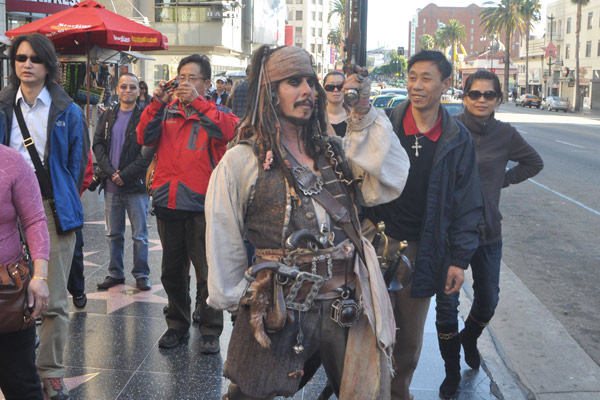 Chinese tourists at the Hollywood Walk of Fame in Los Angeles. Approved trips by Chinese officials to the United States fell by as much as 90 percent in the first half of 2013, says Sage Brennan, co-founder of the Los Angeles-based consulting group Luxury China Advisors. [Photo / Provided to China Daily]
Almost every year for more than a decade, tour group operator Carson Zhang guided a delegation of about two dozen Chinese government officials from Guangdong province's forestry administration for a two-week trip through the national parks of California, Tennessee and Georgia in the United States.
Along with presentations about forest fires and trail preservation, the officials enjoyed lobster and steak dinners, went to see Tennessee bluegrass musicians perform and made a stop at one of California's shopping malls.
Zhang's company, American Carson International, catered almost exclusively to government tour groups from Guangdong province. But in the past couple of years, official tourism from that source has been scaled back, Zhang said.
President Xi Jinping's crackdown on government corruption, which began almost two years ago, has had a profound impact in China. Luxury goods sales have suffered, officials now shun lavish banquets, and gambling revenues at casinos in Macao have been sinking.
It is also hurting a specialized niche of the US tourism industry.
In some parts of China there are new restrictions on the kinds of overseas travel by central and local government officials that will be allowed, according to officials.
Often it is not a new rule that is proving to be a barrier but widespread fear that an overseas trip will attract the wrong kind of attention from the government teams investigating corruption. The probes have led to the detention of thousands of officials and have a particular focus on those who may have moved suspicious amounts of money overseas.
The Xinhua News Agency reported in January that the number of officials who traveled overseas for training approved by the State Administration of Foreign Experts Affairs had fallen by 32 percent in 2013. The body approves trips below ministerial level.
International "training" trips, meant to help Chinese officials learn about business and government practices in other countries, are not only less frequent, they are also shorter and there is a lot less room for leisure time.
One municipal tourism bureau from a medium-sized Chinese city needed its foreign affairs bureau's approval to travel to the US this year, said Haybina Hao, international development director for the National Tour Association, a travel trade group based in Lexington, Kentucky that recommends tour managers.
Their review is still pending, Hao said. But if they are approved, the trip - they are only allowed one this year - must last less than eight days, Hao said. Take away two days for travel and that is not a lot of time, she said.
"Which is exactly the intention of the Chinese government," Hao said. "They don't want (officials) to spend excessive public funds."
At the Guangdong Forestry Administration, a section chief who would only give her surname, Tan, confirmed that as regulations have tightened it is no longer sending officials on the two-week trip. She said that there had in the past been such training visits that had involved traveling through California, Tennessee and Georgia and that they had always complied with Chinese regulations. She said she was not certain which year they had stopped.
Groups of officials would often have a relatively light official schedule, leaving plenty of room for sightseeing and trips to shopping malls, restaurants, and casinos. The tour operators would often get commissions from planning such excursions.
"In the past, most of these trips have been one day of official business and 10 days of travel," said Sage Brennan, co-founder of the Los Angeles-based consulting group Luxury China Advisors, which consults clients such as luxury retailer Bergdorf Goodman and the Los Angeles Tourism and Convention Board on how to attract Chinese consumers. "Those kinds of trips have disappeared."
Brennan estimates officially sanctioned Chinese government travel to the US fell by as much as 90 percent in the first half of 2013, and it has not recovered much since.
Some hotels in New York have seen a decline in Chinese government guests. The Sheraton LaGuardia located in Flushing, Queens, which is New York City's biggest and fastest-growing Chinatown, had several official delegations cancel their reservations in October, said Karen Ng, head of sales.
In recent years, the balance has swung more toward private tour groups and even individual tourism as the number of people with the private means to travel soars along with China's economy. It means that while the drop off in official trips may be hurting some tour operators and hotels, the overall impact is more than offset.
Chinese tourists visiting the US in July 2014 jumped 22 percent over July 2013, according to the US Department of Commerce.
Uncovering the uniqueness of Kenya

China to face $100b tourism deficit

China develops revolution-era tourism