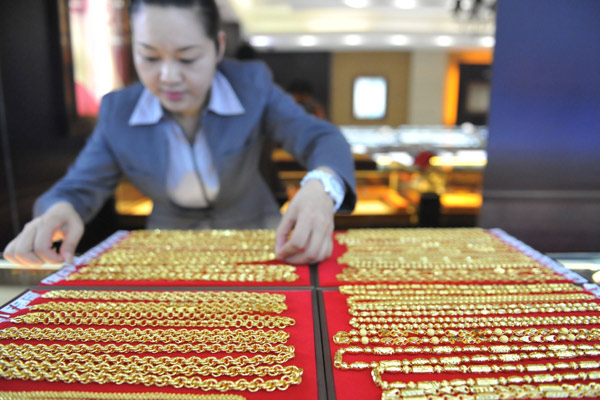 A saleswoman sorts gold products at a shop in Lin'an, Zhejiang province. Chinese consumers bought 182.7 metric tons of jewelry, gold bars and coins for investment in the third quarter, a 37 percent year-on-year decline. [Hu Jianhuan / China Daily] 
Slowing growth, austerity drive dent purchases, World Gold Council reports
Gold demand dropped in China during the third quarter of the year to a five-year low amid slumping prices and a nationwide anti-graft campaign, the World Gold Council said on Thursday.
According to the WGC, the latest trends put China behind India in gold consumption.
Chinese consumers bought 182.7 metric tons of gold jewelry, gold bars and coins for investment in the July-to-September period, a 37 percent year-on-year decline.
Out of this, gold jewelry purchases, which accounted for 70 percent of the total gold consumption, fell even further with a drop of almost 40 percent from a year earlier.
In sharp contrast, purchases from India stood at 225.1 tons in the third quarter, with gold jewelry demand jumping about 60 percent in the same period. China had overtaken India as the world's largest gold consumer in 2011.
The slump in demand for gold in China is a result of a retreat to "rational consumption" especially after President Xi Jinping stressed on the need for a "new normal" in the pace of economic growth. As a result, gold consumption also needs "organic growth", Albert Cheng, managing director for the Far East at the WGC, told China Daily.
"The price-driven gold surge hit a record high last year, but it cannot reflect the average level," he said. "As the industry consolidated further, it reflects an adjustment toward more normal levels of demand following last year's rapid expansion."
The nationwide crackdown on extravagance this year has led to lower demand for luxury goods and gold. Gold investment has taken a breather this year, the report said, as people bought fewer bars and coins as a means of investment because of a fall in gold prices caused by the global debt crisis.
The lack of clear price signals has led to investors holding back gold purchases, which in turn dampened sentiment, the London-based organization said.
"In China, where investors are more price-savvy, the drop in price had affected the confidence of gold buyers, but the demand for gold investment will pick up in the long term," Cheng said.
The WGC has lowered its expectations for China's gold demand in 2014 from 1,000 tons earlier this year to about 850 to 950 tons, as the world's second-largest economy continued to weaken.
Global demand for gold was 929.3 tons from July to September. While gold jewelry demand softened by 4 percent year-on-year, it continued to perform well in the longer-term context.
Last year, gold purchases from China saw a frenzied surge to 1,065.8 tons, accounting for 28 percent of the world's total consumption, the WGC said.