China's ever-expanding telecommunications industry is bringing the world closer together, industry insiders said ahead of the Asia-Pacific Economic Cooperation meeting in Beijing.
And the surging adoption of fourth-generation telecom networks is set to boost telecom-related consumption in the country, such as the sale of smartphones.
"As the three major telecom operators of China obtain TD-LTE licenses, their strength will be greatly enhanced and the industry will become more mature," said Jason Shen, a senior market analyst at global market intelligence firm IDC China's Telecommunications Research Group.
China's Big Three telecom carriers - China Telecom Corp Ltd, China United Network Communications Group Co Ltd, or China Unicom, and China Mobile Communications Corp Ltd - have all been working to promote their 4G services to Chinese customers since the spring, although many small cities - especially in Western China - still have no or poor 4G signal coverage.
A report from IDC has estimated that with more smartphones sold in China equipped with 4G capabilities, the penetration rate of this latest telecom technology is set to surge in coming years.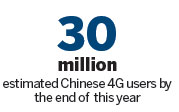 Chinese telecom equipment makers are also making strong moves overseas. The latest example was revealed in September when Cambodian telecommunications company EMAXX announced a partnership with Chinese giant Huawei Technologies Co Ltd on 4G network construction.
In mid-August, two subsidiaries of China Mobile and China Telecom, the country's top telecom carriers, joined a Google Inc-led project to build a trans-Pacific submarine fiber optic cable system connecting Asia and North America. The $300 million project, named Faster, will significantly lift Internet connection speed in China and other Asian nations after it goes live in mid-2016, according to a six-company consortium funding the construction work.
"With Faster, we will be able to cater to our customers' increasing demand for bandwidth," said a statement from China Mobile's Hong Kong-arm.
"The project is set to consolidate China Mobile's advantages in the data service segment."
China's mobile Internet user base has now grown to 500 million and is accelerating at high double-digit pace because of 4G expansion, according to the China Internet Network Information Center. The Ministry of Industry and Information Technology has estimated that China will have 30 million 4G users by the end of year, just a year after it was officially launched.
The government's Broadband China Project is aimed squarely at extending broadband coverage in the entire country. Kitty Fok, managing director of IDC China, said Internet connectivity is a priority within the government's next five-year plan.
"There will be a significant increase in wireless data usage with more than 1 billion smartphone users by the end of 2017. At the same time a number of smart city projects are going to be the focus," said Fok.