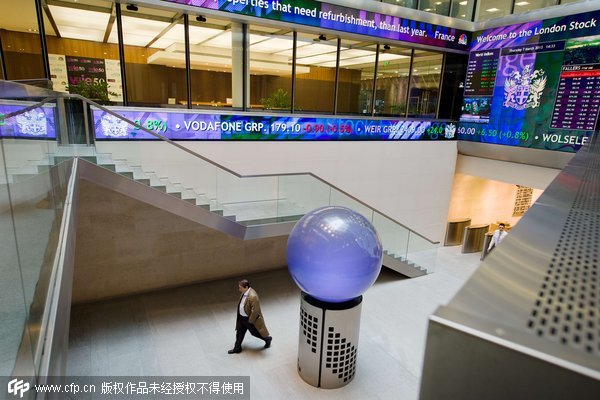 People walk in the foyer of the London Stock Exchange in central London, March 7, 2013. [Photo/CFP]
London is seeking to raise its profile as a preferred listing destination for Chinese companies following the massive initial public offering of Alibaba Group Holding Ltd in New York.
But instead of competing head-to-head with New York over super-size IPOs from China, the London Stock Exchange is looking at smaller Chinese companies in sectors ranging from technology and healthcare to energy and utilities, which are in dire need of international capital, according to the senior executives of the British bourse.
"The broad IPO pipeline for the stock exchange remains positive and part of it is about exploring what the possibilities are for Chinese companies," said Alexander Justham, chief executive of London Stock Exchange Plc.
The US market seems to have consolidated its lead in the global IPO market after Alibaba's $25 billion listing, the largest IPO in history. As of the end of September, the total funds raised on the New York Stock Exchange and Nasdaq this year stood at $77 billion, according to data from Dealogic LLC. That was twice the amount raised in London and Hong Kong combined.
"We are not on the same scale as the US market in that context. But London is able to equally value technology companies and the London financial community is definitely able and capable of investing in tech stocks," Justham said.
He spoke on the sidelines of an IPO conference in Beijing on Thursday, the first of its kind the bourse held in China. The conference, which gathered officials and executives from China's central bank, domestic investment banks, law firms and private companies hoping to be listed overseas, was seen as a platform for the exchange to seek greater exposure in the Chinese market.
Jon Edwards, co-head of emerging markets and equity primary markets at the LSE, said that Alibaba's listing in New York did not mean that London is losing its place in the IPO market. Instead, the bourse aims to take advantage of the vast ecosystem created by Alibaba, which will create more listing business for London, he said.
"The good thing about Alibaba is that it is so huge and it will give birth to more companies and not all of them will go to New York," Edwards said.
The LSE last year had 105 IPOs, which raised $25.4 billion. It was also the strongest year for technology IPOs on the exchange since 2007, with 36 companies raising $1.62 billion, according to the LSE.
Amy Cheng, vice-chairwoman of the investment banking unit of Bank of China Ltd, said London is becoming an increasingly attractive IPO market for Chinese companies because it can also offer companies access to capital from Africa and the European continent.
"More importantly, Chinese companies don't simply see London as a fund-raising destination. They are looking at a full business portfolio, which includes management expertise and branding assets," she said.