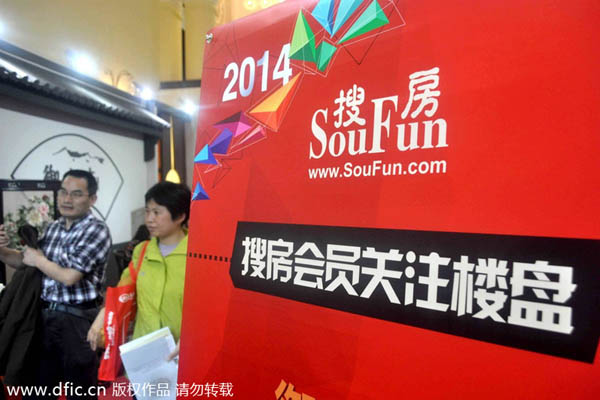 Visitors walk past the stand of Chinese online real estate website SouFun.com during a real estate fair in Shanghai, China, 2 May 2014. [Photo/IC]
Property brokerages' feud with Soufun Holdings Ltd deepened on Tuesday, with 13 brokerages launching a boycott in Shanghai against the country's biggest property information website over "exorbitant fees".
The brokerages, led by Centaline Property Agency, Century 21 Real Estate and Shanghai Deovolente Realty, accused New York-listed Soufun of going back on its word when it introduced new ancillary charges that effectively negate a discount it promised in June in a reconciliation agreement.
"Over the past month, Soufun disturbed market order in Shanghai through black box operations ... and the brokerages have protested, but to no avail," the brokerages said in a joint statement.
The brokerages said on Tuesday they would terminate business cooperation with Soufun immediately. Soufun could not be reached for comment.
Soufun provides a paid service to brokerages for them to post and update property information on its website. The service is Soufun's main source of revenue.
The Chinese brokerages' dispute started in May, when nine brokers in Hangzhou stopped putting information on Soufun, in a bid to get the website to reduce the rates. Soufun's shares in New York took a hit after the incident, sinking 17 percent on June 13, the most since 2011.
Soufun announced a 40 percent discount on listing fees in June, which reportedly cost the company 500 million yuan ($80.65 million) in revenue, in a bid to win back the brokerages' business.
But the discount apparently failed to please the brokerages, as boycotts broke out in Henan province and the city of Shenzhen in the following months.
The dispute has taken place amid a property market cool-down in China that has hit the brokerages' business hard.
In the first half of the year, housing sales fell 9.2 percent to 2.56 trillion yuan, according to data released by the National Bureau of Statistics.
In July, home prices fell a third straight month, according to a survey of 100 major cities released by the China Real Estate Index System, a property market data provider.
The brokerages said Soufun has encouraged "unhealthy competition" among brokerages by introducing higher-priced service packages that allow agents to refresh their listings on its website more times, so that their listings have a better display position to attract visitors.
Soufun's packages allow agents to refresh listings from 60 to 600 times a day.
JP Morgan said in a report last Wednesday that Soufun might lower its forecast of revenue growth this year to 15 to 20 percent, from over 20 percent.
Revenue from listing services will drop 5 percent this year to $154 million, the report added.