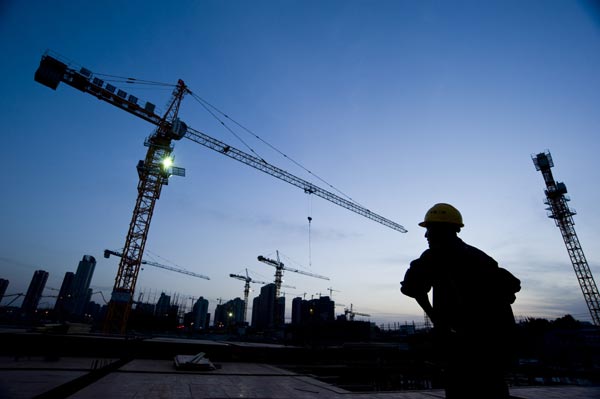 A residential project is under construction in Hai'an, Jiangsu province. The average home price of 10,978 yuan ($1,770) per square meter in May in 100 major cities was the first month-on-month drop since June 2012. [Photo/China Daily]
Govt said to be adopting neutral stance as balance shifts in supply and demand
Housing prices will remain under pressure for the foreseeable future, and the government isn't expected to take any steps to boost the market, industry analysts said.
The average price in 100 cities sampled was 10,978 yuan ($1,770) per square meter in May, a dip of 0.32 percent month-on-month, according to the China Index Academy Ltd, a Beijing-based research institute that's wholly owned by SouFun Holdings Ltd.
That marked the first month-on-month drop since June 2012.
The average price in 10 key cities, including Beijing and Shanghai, was 19,605 yuan per sq m, down 0.18 percent month-on-month but up almost 14 percent year-on-year, the academy said.
The average price in the 100 major cities still rose last month, gaining 7.84 percent year-on-year, although the growth rate was down 1.22 percentage points from the previous month.
May was the fifth consecutive month in which the rate of price growth slowed.
"Increasing supply and falling transactions are weighing on developers, encouraging more of them to offer favorable prices," said Huang Yu, deputy head of the academy.
Many developers launched innovative sales campaigns during the three-day Dragon Boat Festival, which ended on Monday. China Vanke Co Ltd, for example, opened a sports-themed park in Beijing as part of its promotional effort.
Downward pressure on the prices of pre-owned homes has become more evident. Yu Lulu, an agent with property brokerage firm Homelink Real Estate, said the average price in the residential community he's responsible for has fallen more than 10 percent in the past four months.