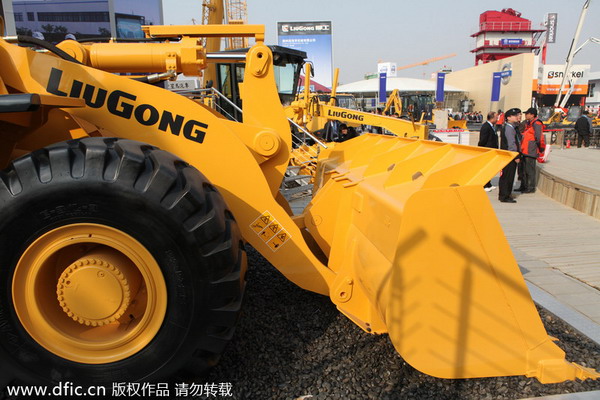 Construction machineries of LiuGong Machinery Co Ltd are displayed during an exhibition in Shanghai. [Photo / dfic.cn]
Construction equipment maker invests in and targets the fast-growing North American market, Du Juan reports
"It's not a question of whether Chinese construction companies will be successful in North America. It's really a question of how many," said Marc Dowdell, president of LiuGong Construction Machinery North America.

As head of the subsidiary owned by Guangxi LiuGong Machinery Co Ltd, headquartered in Liuzhou, Guangxi Zhuang autonomous region, Dowdell helped it achieve a profit for the first time in 2013. The achievement is seen as a breakthrough for LiuGong in the North American market since it started operations there in 2008.
Zeng Guang'an, president of the mother company, had expected 10 years of losses from the North American market before making a profit, saying that "going global is a long-term process, and it's unavoidable and necessary to pay tuition fees".
When he announced the company's encouraging performance in the North American market during the ConExpo - Con/Agg show in Las Vegas on March 4, standing on one of the company's large-size excavators on display at the booth, he was very complimentary to his team.
The company sold 500 equipment sets last year in North America with sales revenue of about $30 million.
The sales volume in Mexico was 700 sets worth $20 million, according to Luo Guobing, Liugong vice-president who is responsible for overseas sales and marketing.
Compared with LiuGong's total overseas sales revenue of $680 million last year, the company is still at a very early stage in the North American market, which has huge potential but is also very competitive, said Luo.
He predicted in the next five years the company will maintain an annual growth of 40 percent in sales revenue in North America.
Established in 1958, LiuGong has become a leader in China's heavy construction-equipment and material-handling industries.
Its major overseas markets are Latin America and Southeast Asia.