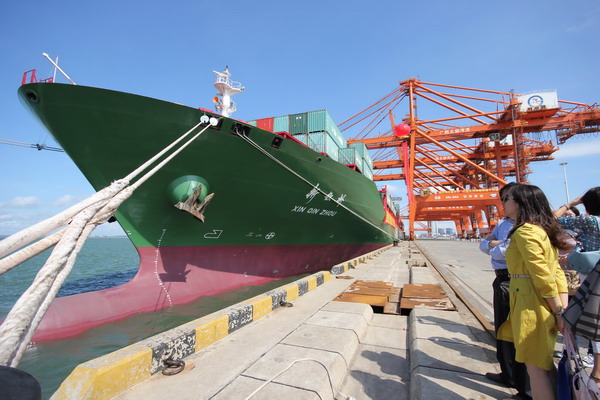 One of China Shipping Container Lines Co's container ships docked at Qinzhou port in South China's Guangxi Zhuang autonomous region. [Photo/Xinhua] 
China Shipping Container Lines Co, a main subsidiary of State-owned China Shipping (Group) Co, has forecast a net loss of 2.63 billion yuan ($435 million) for 2013, as the company underwent a shrinking global shipping market, aggravated by the challenges of overcapacity and international competition.
To avoid financial loss, CSCL began to sell its quality assets in the second half of 2013. However, the company only managed to complete a 49 percent share sales of Lianyungang New Oriental International Container Wharf with Singapore's port operator PSA International Pte Ltd within the year, gaining 260 million yuan in sales profit.
CSCL's sales for China Shipping Shanghai Yangshan International Container Storage and Transportation Co and another Shanghai-based shipping trade company will be completed this year, with the estimated 300 million profit counting as part of the company's 2014 financial report. The company will reveal its 2013 full-year earning details in March.
In the meantime, China COSCO Holdings, another of China's shipping giants, is expecting to report a full-year profit for 2013 thanks to a number of asset sales to its parent company to cut its poorly performing core business.