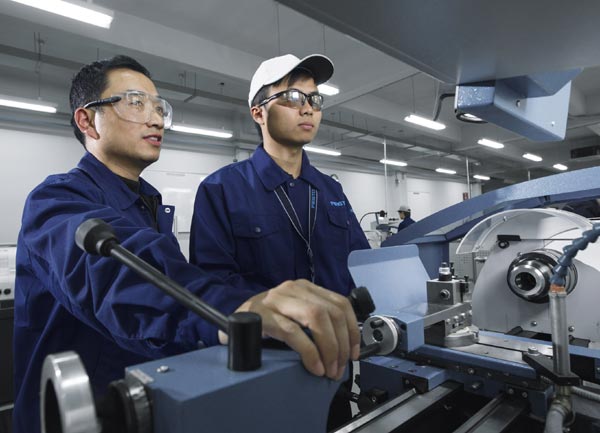 A senior worker (left) conducts one-on-one training session for an apprentice at Festo Training Center in Jinan, Shandong province. Provided to China Daily
Boss sees substantial increase in electrical automation technology
In Festo's largest Asian logistics center in Jinan, Shandong province, 30 tons of materials are imported from around the world every week and 15 tons of products are shipped via domestic transport every day.
Considering the figures, it conjures up a busy, perhaps chaotic picture. However, in the upgraded regional service center, with several workers present, the products and wooden boxes were kept in good order on high iron shelves.
The efficient scene may explain the German company's core products: pneumatic and electrical automation technology.
Chen Zhizhong was happy to be one of the first to witness the unveiling of the new center after he was recently designated as the general manager of Festo (China) Ltd.
Transferred from US-based Tyco Flow Control Co, which focuses on heavy machinery, Chen said he is looking forward to some changes based on his past career.
"As a manager, I expected to learn something new from a trendy sector and also the different culture of a European company," said Chen, who had just arrived in Jinan from Shanghai to celebrate Festo's 20th anniversary in the Chinese market since its formal landing in 1993.
Shifting from a public company to an independently family-owned enterprise group, which was established in 1925 with headquarters in Esslingen, Germany, Chen said he feels a closer relationship with peers and a more relaxed working atmosphere.
However, from traditional heavy industry to the emerging automation sector that manufactures intelligent products and smart solutions is also a challenge to 54-year-old Chen.
Chen graduated from Tam Kang University, Taipei, in 1981. He received a master's degree in science from Auburn University, in the US, in 1988.
During his nearly 30-year career, Chen worked at several multinational enterprises as regional sales manager in charge of marketing and sales. He has worked in many markets, including Japan, North Asia, Southeast Asia, as well as the Chinese mainland, Hong Kong, Macao and Taiwan