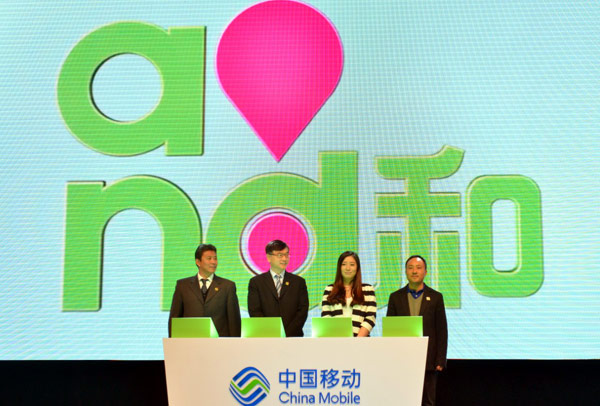 China Mobile reveals its new 4G service brand "He" ("And") on Dec 18, 2013 in Guangzhou. [Photo / chinadaily.com.cn]
China's biggest telecom carrier China Mobile, revealed its new brand "He" ("And") on Wednesday, mainly targeting upcoming fourth generation (4G) mobile business.
The logo for the new brand features green grass and peach colors. It combines the English word "and" with the Chinese character for "he," along with a rosy exclamation mark.
Li Yue, chief executive officer of China Mobile, said the logo signifies connection and communication. In addition, "and" is a combination of three letters meaning "a new dream," which delivers China Mobile's intention to provide Chinese customers with the most advanced technology in the 4G era.
China Mobile's current brands -- GoTone, EasyOwn, M-Zone and G3 for 3G mobile services, will be phased out after the launch of "He," according to company officials.
This means "He" will take the stage as an all-service brand for China Mobile and offer clients integrated 2G, 3G and 4G mobile services.
Xi Guohua, chairman of China Mobile, said the new logo also expresses the operator's willingness to form a solid alliance with industry partners and to win together in the Chinese market.