Unilever global manufacturing base breaks ground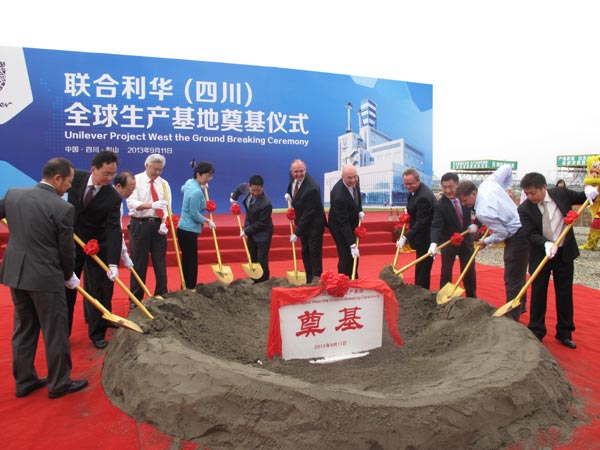 The ground-breaking ceremony for the Unilever (Sichuan) global manufacturing base was held in Pengshan county, Sichuan province, on Wednesday.  [Photo/chinadaily.com.cn]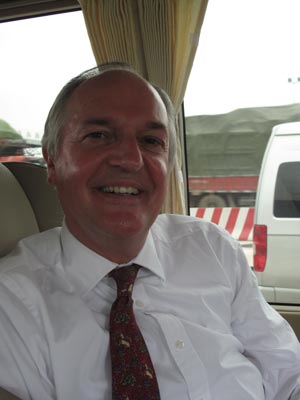 Unilever chief executive officer Paul Polman[Photo/chinadaily.com.cn]
The ground-breaking ceremony for the Unilever (Sichuan) global manufacturing base was held in Pengshan county in Southwest China's Sichuan province, on Wednesday.
"The new facility will be Unilever's third world-class green manufacturing base in China after those in Hefei (capital of East China's Anhui province) and coastal Tianjin municipality and will become one of Unilever's biggest production facilities globally," said Unilever chief executive officer Paul Polman in an exclusive interview with China Daily.
The base, located in the Qinglong Development Zone of Pengshan, a county under the administration of Meishan city, covers 26.7 hectares.
The first phase of the project which produces laundry detergent involves an investment of nearly 300 million yuan ($49 million) with an estimated annual output of more than 200,000 tons upon completion of the base in 2015.
"By that time, products from the base will satisfy market demand in West China and be exported," Polman said.
In 2002, Unilever set up its production base for household and personal care products in Hefei, which was its first step in expanding the industrial footprint in China. The base is Unilever's biggest production facility globally with an output value of 16 billion yuan.
"Over the years, Unilever has adjusted its industrial layout in line with China's overall development plan. In 2012, Unilever China set out a higher goal that by 2020 total turnover in China would reach 5 billion Euros. Accordingly, Unilever began to expand its production capacity in China. In March 2012, it launched its Tianjin industrial park project," Polman said.
"Our industrial park in Hefei aims at the market in South China and the Tianjin industrial park is mainly for the market in North China. The Sichuan base which is Unilever's first in West China, was chosen on the grounds of Sichuan's advantageous location, good transportation, abundant labor force as well as high-quality raw materials, which help reduce transportation and labor costs, thus better serving the market in West China," he said.