Border trade center serves as China's gateway to Kazakhstan
Despite being "stranded" most of the time in distant villages along the China-Kazakhstan border, Ravil Budukov said he finds his work exciting, building bridges between business communities in the neighboring countries.
Budukov, 24, now works as the press secretary for the China-Kazakhstan Khorgos International Center of Boundary Cooperation, responsible for Kazakh communications with Chinese government officials and business community members. "The center opens at 8:30 am, and every day there are around 300 tourists from Kazakhstan and 1,000 from China coming here from each side, mostly shopping," he said.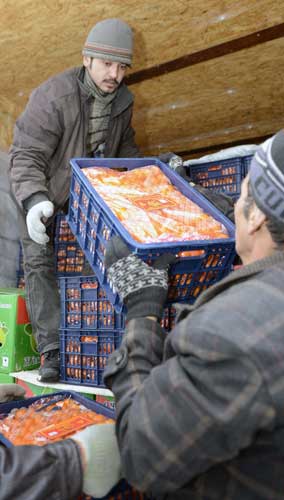 Workers load oranges to be exported to Kazakhstan in Khorgos, the Xinjiang Uygur autonomous region. Zhao Ge / Xinhua 
As a two-time winner of the Confucius Institute Scholarship, Budukov previously studied at the Xinjiang University of Finance and Economics, and at Suzhou University in Jiangsu province. As well as his native tongue, he speaks fluent Chinese.
"I am grateful that my Chinese knowledge and my experiences in China have led me to the Khorgos center, where one is able to witness the vitality of bilateral trade and the friendship between the two peoples," Budukov said.
Khorgos is a Chinese town on the border with Kazakhstan, located in the Ili Kazakh autonomous prefecture of the Xinjiang Uygur autonomous region. Named after the Khorgos River, which runs from north to south and separates the two countries, the town has been gradually transforming into a regional hub for trade since it was planned as the special economic zone in 2010.
The Khorgos International Center of Boundary Cooperation, jointly established by China and Kazakhstan, covers an area of 5.3 square kilometers, with 3.4 sq km on the Chinese side and 1.9 sq km on the Kazakh side. It went into operation in April 2012, helping the two sides to develop business contacts, to organize trade fairs and to boost tourism.
Marat Zhanuzakov, head of the investment and international cooperation department on the Kazakh side of Khorgos, said the uniqueness of the project lies in the free movement of people, cargo, commodities and goods between the two sides.
"We have a 30-day visa-free policy, which means people do not need to have Chinese or Kazakh visas to visit the center," Zhanuzakov said.
"Right now, we are making every effort to improve our infrastructure and projects to attract more Chinese tourists and businessmen, because we believe there is great potential, considering the vast population and economic capacity of China's western region," he said.
He said that most of the business done by the Kazakh side of the Khorgos center is related to tourism.
The Xinjiang Tourism Bureau said that provincial tourism revenues grew 23 percent year-on-year, hitting $3.86 billion in the first half of 2013. Tourists from Kazakhstan accounted for more than 70 percent of overseas tourist arrivals in the region.
Gong Weibing, an official of the Ili Kazakh autonomous prefecture, said with a package of favorable policies in tax and finance, China aims to build Khorgos into a new economic growth point and gateway to the west. "As the first cross-border center of boundary cooperation China has established with neighboring countries, Khorgos has been playing a demonstration role within the framework of the Shanghai Cooperation Organization, and will certainly embrace brighter prospects," Gong said.
With the passing of the second cross-border railway to Kazakhstan and the Central Asia oil and gas pipelines, Khorgos is also becoming an international transportation and energy pivot with a network of highways, railways and pipelines, which in turn bring the two countries closer.
On Wednesday, the Khorgos center held a joint promotion meeting on investment projects in Urumqi, capital of Xinjiang, during the convention of the third China-Eurasia Expo.
So far, 22 important projects, mostly in catering, hotels and finance, have arrived in Khorgos with a total investment of $3.8 billion.
"The Kazakh side is still under intense construction," Zhanuzakov said. "In around five years, we are expected to have more rapid growth for business."