IKEA builds on success in Jiangsu
Sweden-based home furnishing giant IKEA Group opened its first wholly owned manufacturing facility in China on Wednesday, through subsidiary IKEA Industry Group, in a bid to support its rapid expansion in Asia - especially China.
The factory, which will make wooden products, is in Nantong, Jiangsu province, a manufacturing hub for home furnishings and interior decoration material. The factory will supply IKEA stores, mainly in China.
With this facility, IKEA now has 43 manufacturing units in 12 countries.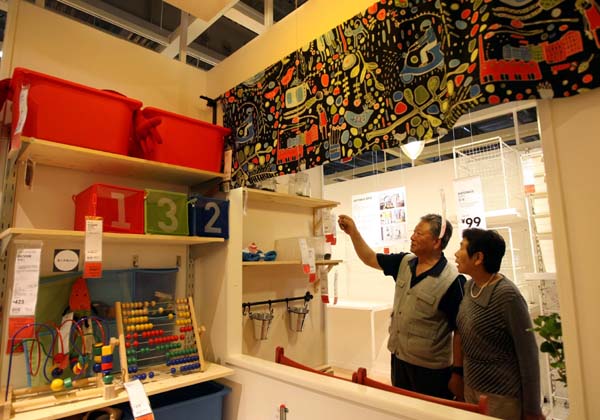 Sweden-based home furnishing retailer IKEA Group opened its first wholly owned manufacturing facility in Nantong, Jiangsu.[Photo/China Daily]
"China is an important market for IKEA and we have a long-term commitment and strategic interest in this market. The role of IKEA Industry is to be better than our external suppliers by creating outstanding customer value in terms of price and quality," said Robert Zanichelli, division manager for flatline, IKEA Industry.
"We should create capacity for growth in strategically important categories where capacity is hard to find. And we should also add production competence to IKEA and our suppliers," he added.
As the largest sourcing country for IKEA, China accounts for 22 percent of its global purchases, with about 300 local suppliers.
"Choosing Nantong as the location for our first local production base for IKEA Industry, the world's largest producer of wooden furniture, allows us to lower our logistics costs due to Nantong's location near the Yangtze River," said Zanichelli.
"The factory can support the continued work of creating great home furnishing offerings at a low cost and with the right quality."
The factory is also not far from IKEA's two biggest warehouses, which are in Shanghai.
Cutting product prices has always been IKEA's strategy. It cut prices in China by an average of 50 percent between 2000 and 2012. It aims to further lower the figure by 2.3 percent in the 2013 fiscal year, which ends on Aug 31.
"China has huge potential and offers good-quality raw materials, high competence and production efficiency in a growing market. Through our new and modern factory with sustainable production solutions, we will be able to support growth in a good way," said Wieslaw Motylinski, factory manager of IKEA Industry Nantong.
In the current fiscal year, IKEA said, its China business grew at a "double-digit" pace, faster than the domestic market overall or in other countries.
In fiscal 2012, IKEA China's revenue reached 6 billion yuan ($970 million) at its new and existing stores, up 23 percent year-on-year. Revenue was up 15 percent in terms of comparable stores.
"IKEA wants to provide more relevant and affordable solutions to millions of Chinese consumers, with good-quality products at low prices, reaching more people in our existing 13 stores and many more with our three stores per year expansion plan going forward.
"The opening of the Nantong factory will enable us to do that, and I believe we can optimize the total value chain by working closer together," said Angela Zhu, retail manager of IKEA China.
Liu Jinliang, deputy secretary-general of the China National Furniture Association, said that the furnishing sector in China still has a bright future.
"It's an evergreen industry in China, as there is always natural demand for real estate in the long term, especially from the more than 10 million newlyweds every year," said Liu.
"Rapid urbanization also drives the requirements for furniture."