Weather bears down on rice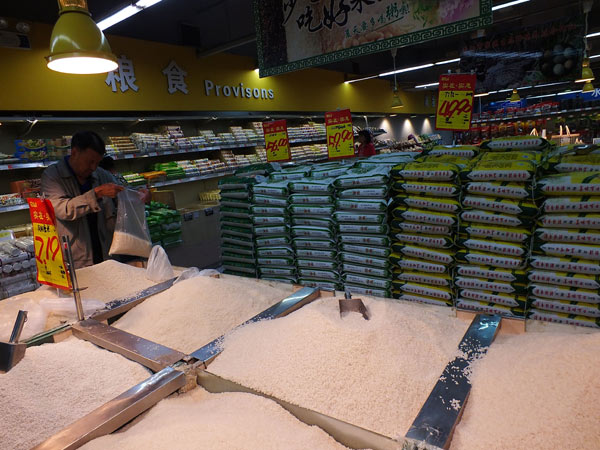 A shopper buys rice in a supermarket in Yichang, Hubei province. The bad weather that hit China's major rice-growing regions is likely to drive up imports in the world's biggest rice buyer. [Photo / For China Daily]
2013-14 import quota set at 5.3 million tons
Drought, heat, heavy rain and floods in China's major rice-growing regions are likely to cut the country's harvest and increase reliance on imports, industry experts have forecast.
An ongoing drought has harmed rice crops in Central and East China's major rice-growing regions such as Hunan and Jiangxi provinces.
Meanwhile, heavy rain and floods have hit Heilongjiang province in Northeast China.
In addition, a heat wave has scorched 13 provincial-level areas and left about 6 million people and 1.72 million head of livestock short of drinking water, the Ministry of Civil Affairs said.
According to the State Flood Control and Drought Relief Headquarters, more than 1.87 million hectares of farmland have been affected by the drought in Hunan, Hubei and Jiangxi provinces. About 70 percent of the land involved is planted with rice.
Rain of medium to heavy intensity has continued battering Heilongjiang province, where it has flooded 5,300 ha of rice farmland.
Ding Lixin, a researcher at the Chinese Academy of Agricultural Sciences in Beijing, said the central government had set a rice import quota of 5.32 million tons for 2013-14.
Ding said the rough weather may boost actual rice imports to between 2.8 and 3 million tons this year alone.
China imported 2.36 million tons of rice from international markets such as Thailand and Vietnam in 2012.
"August is an important month for paddy rice to develop, when it needs more water and nutrients to grow. The drought will certainly cut yields and disrupt plans for late planting in South China," Ding said.