Exports, spending 'to ebb'
Slowing foreign, local demand to hamper growth
The expansion of China's exports and consumption may decelerate further in the second half of the year due to weak overseas and domestic demand, adding headwinds to overall economic growth, a research center with the country's top economic planning body has forecast.
The outlook was issued by the State Information Center on Wednesday, which is under the National Development and Reform Commission.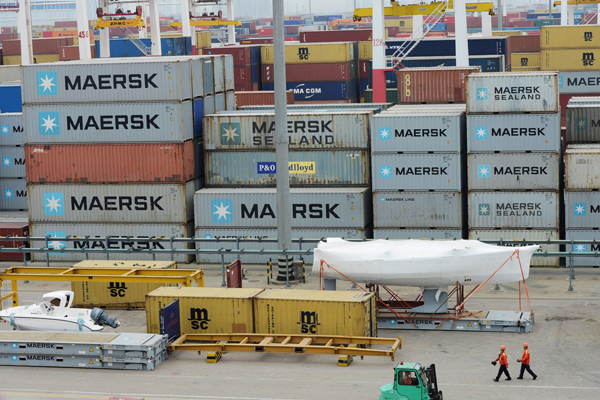 China's exports may decline further in the second half of this year, dragging down annual export growth to 9 percent and creating a trade surplus at the end of the year of possibly $280 billion, according to an official forecast. YU FANGPING / FOR CHINA DAILY
The center said that during the second half of 2013, the total value of China's trade might increase more slowly than it did in the first half, affected in part by the emerging effects of a stronger yuan.
It forecast full-year export growth would be about 9 percent, down from 10.4 percent in the first half, while imports might rise 7.3 percent, compared with 6.7 percent in the first half.
The full-year trade surplus is likely to widen to $280 billion by the end of this year, from $108 billion in the first half, the center said.
"Weak external and domestic demand will remain the key factors increasing the downside risks for China's economy in the third and fourth quarters," said Lian Ping, chief economist at the Bank of Communications Ltd.
In addition, as household incomes are likely to increase more slowly and property prices remain high, consumer confidence could weaken and curtail consumption.
The center forecast that full-year retail sales may increase by a nominal 13 percent, but the real rate of growth may be 11.3 percent, which would be slower than in the first half.
According to the National Bureau of Statistics, retail sales increased by a nominal 12.7 percent in the first half.
Policymakers are likely to announce further reforms in the coming months to foster consumption as a new economic growth engine, the center said.