China's 1st intercity express train starts testing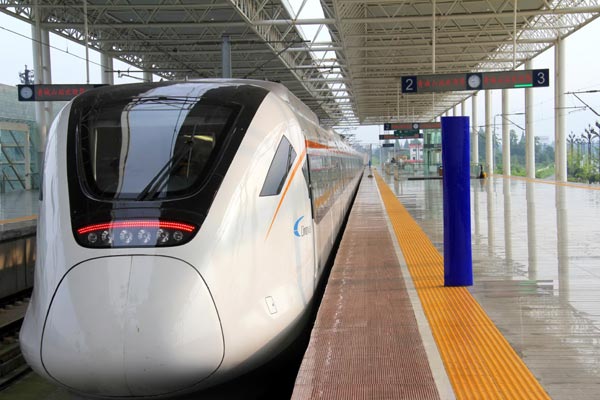 China's first inter-city express train started its daily test runs on Thursday in the southwestern province of Sichuan.[Photo/Xinhua] 
QINGDAO -- China's first intercity express train started its daily test runs on Thursday in the southwestern province of Sichuan before it is put to use in Guangdong province, its manufacturer said.
The CRH6A train will have a daily 2,000-km test run on the rails from Chengdu, provincial capital of Sichuan, to Dujiangyan city and Dazhou city, respectively, according to Sifang Locomotive and Rolling Stock Co Ltd under China South Locomotive and Rolling Stock (CSR). Sifang Locomotive and Rolling Stock Co is based in Qingdao, east China's Shandong province.
The operation assessment period takes about six months and the train will run a total of 300,000 km. Passengers will be on the train in the final phase of testing.
The express train is designed to travel at 200 km per hour. Another model, the CRH6F, with a designed speed of 160 km per hour, has also been completed and will start trial runs soon.
The intercity express trains target medium and short-distance trips between cities. Compared with high-speed bullet trains, the intercity express trains, like subway trains, can stop at many stations and start and stop at fast speeds.
The CRH6A train has a maximum capacity of 1,488 passengers. It will be first put into use on the rail linking the cities of Guangzhou, Dongguan and Shenzhen in Guangdong.