Thinking small begins to yield results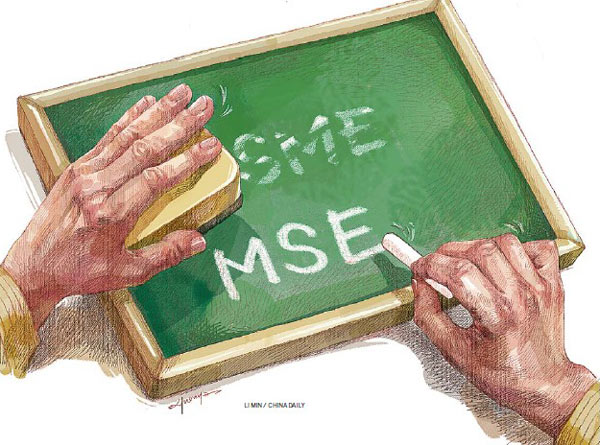 Micro firms have big role to play in creating jobs and poverty reduction
You can spot them all across China in different shapes and sizes, ranging from small restaurants, hair salons and shops to a host of enterprises that make a variety of goods. Though these micro and small enterprises have been largely inconspicuous, they are often the essential springboard for growth, job creation and social progress.

Small and medium-sized enterprises in China have not exactly been in the pink of health. Issues such as funding concerns and inadequate government support continue to be a major constraint for many of the SMEs, thereby restricting their room for growth. However, a great deal of progress has been made.
According to data provided by the SME division of the Ministry of Industry and Information Technology, there were 13.7 million registered companies and 40.6 million self-employed companies in China last year. More than 99 percent of them were medium and small to micro-sized companies, contributing more than 60 percent of the annual GDP, and more than 80 percent of the jobs in cities.
In government parlance, SMEs are often referred to as the "cells of the economy". That definition is more than justifiable considering that a huge economy often consists of thousands of cells that are small and invisible and often not given too much attention in our daily lives.
Integral element
Jerry Mao, partner of the Shanghai-based Lunar Capital, a China-focused private equity fund that has been investing in small enterprises for some time, feels that SMEs are an integral part of the Chinese economy.
According to Mao, though small enterprises are more vulnerable to the economic environment, "once they are on the right track, they can offer much more impressive growth rates".
"Annual growth rates of more than 10 percent are almost impossible for most multinationals, but it is highly possible for SMEs,"he says.
During the last three years, Mao's company has made investments to the tune of more than $100 million in Chinese SMEs. The SMEs Mao's company normally selects for investments are mostly niche players. Citing an example, he says his company recently invested in a Guangdong-based maternity dress-maker, which enjoyed a good reputation among moms-to-be.
Though the turnover of the company was nowhere near big textile companies, Mao says he was motivated to invest in the firm due to its niche status.
"The good thing about SMEs is that most of them are involved in making products like clothing and food that people need for their daily lives. So there is no big fluctuation like in the energy or ore industries."
Gao Xudong, deputy director of the Tsinghua University Research Center for Technological Innovation, says that in recent years the government has been focusing more on SMEs, as was seen during the 18th Party Congress last year.
"Apart from that, we have many industrial and innovation parks in China providing safe harbor for start-ups, as well as incubators with favorable land and tax policies to protect SMEs that are still in their infancy."
SMEs are not only major participants in traditional industries, but also becoming increasingly active in emerging industries and modern service industries, say officials from the SME division of the Ministry of Industry and Information Technology.
Zhao Jiamin is one of the several SME entrepreneurs in China involved in emerging industries. Though he could have enjoyed a high salary and a good welfare package with tech major Oracle in the United States, he decided to come back to China in 2007 to start his own business — Yeeyan, a website that translates foreign content into Chinese.
As a young entrepreneur who started his business both in the US and in China, Zhao says start-ups actually have a better chance to stand out in China.