Brewing up the right recipe for success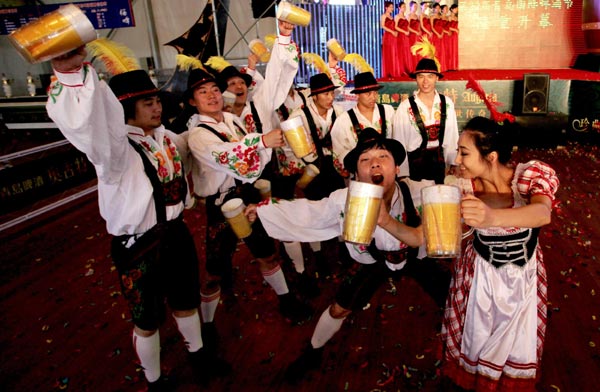 Performers hold replica beer steins at the opening ceremony of the China Qingdao International Beer Festival in Qingdao, Shandong province. Tsingtao Brewery Co Ltd accounts for about 15 percent of China's beer market and around half of the country's beer exports.  [Photo/China Daily]
Tsingtao boss regards industry as a battlefield with millions at stake
While waiting to fly back to China, Sun Mingbo, chairman of the world's sixth-largest brewery by production volume, took a moment to examine the top sellers at an airport bookstore in the United States.
A book entitled The Generals, American Military Command from World War II to Today caught his eye and was soon added to his collection about the military.
As a fan of military leaders and combat strategy while heading Tsingtao Brewery Co Ltd, Sun didn't read the battle stories just for fun.
Last year, he sent part of his management team to the United States Military Academy West Point on a leadership course. "The education provided by the US army is not only about strategy. It is about training leaders," he said.
He is interested in them because "the business world of the Chinese beer industry - the most rapid growing market on the planet - is very similar to the battlefield", he said.
In 2012, Chinese beer breweries produced 49.02 million kiloliters, outnumbering the US as the world's largest beer market.
In comparison with stagnant or declining sales in developed economies, China's per capita beer consumption level has the potential to increase to twice the level in the United States, said Sun.
The former president of China's most renowned beer brand took the job last June after the former chairman Jin Zhiguo resigned unexpectedly.
Under his leadership, Tsingtao Beer, founded in 1903 by German and British merchants, turned in a surprising performance last year, beating its domestic peers in revenue growth and profits.
The industry's growth last year was the lowest after a decade of rapid expansion. Between January and November, the beer industry produced 46 million kiloliters, up only 3.57 percent.
But the Qingdao-based brewery, which accounts for about 16 percent of the domestic market and about half of the country's beer exports, saw its revenue grow 12.8 percent in the first nine months from the same period the year before.
Tsingtao Beer's revenue increase contributed to half of the growth of the industry last year. The brewery made a net profit of 168 million yuan ($27 million) during the first three quarters last year.
Last year, the brewery completed its expansion plans in central China and the northwestern regions, and established plans to produce more than 10 million kiloliters by 2014.
The smooth transition between two executives, sound development of its second-line brands and the clear goal of achieving a production volume of more than 10 million tons took the 110-year brand into a prosperous era, said Fang Gang, an independent analyst of the beer industry.