Zhanjiang eyes economic growth through industrial projects
Construction of large-scale iron, steel and petrochemical projects in Zhanjiang of Guangdong province will begin this year, presenting a huge opportunity to boost the local economy, the city's mayor said.
"The projects will help optimize the country's industrial distribution. Most importantly, we will have a big leap in economic development after the two projects are finished," Wang Zhongbing said.
Both projects, in Zhanjiang's Donghai Island, will be put into operation in 2015, Wang said.
The petrochemical complex, a joint venture between China Petroleum & Chemical Corp and Kuwait Petroleum Corp, will see a combined investment of up to 59 billion yuan ($9.5 billion). It is designed to produce 15 million metric tons of crude oil and 1 million tons of ethylene annually.
In addition, an assembling petrochemical industrial park will be built near the complex, Wang said.
"We are developing the park into one of China's leading petrochemical bases, which will give priority to environmental protection along with large production capacity," Wang said.
Construction of the main oil refinery of the complex will begin in the second half of this year, and an investment of more than 4 billion yuan will be made this year, Wang said.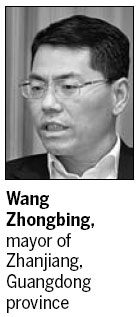 Meanwhile, the iron and steel project, invested by Baosteel Group, the nation's largest listed steelmaker, is designed to turn out 10 million tons of steel annually.
Initial investment in the project will be 50 billion yuan, and an iron and steel industrial cluster will be assembled in the city, Wang said.
Sources with the local government said steel industrial parks are already planned in several parts of the city, including Leizhou, Suixi, Lianjiang and Wuchuan, to develop industries of machinery, shipbuilding, offshore engineering equipment and other industries.
"At the current stage, investment is still seen as a major driver for economic development, especially in underdeveloped areas," Wang told China Daily during the annual session of the National People's Congress.
In a government work report during the opening of the annual NPC session, Premier Wen Jiabao said China has both investment capability and investment demand, and the country will invest in needed sectors.
"In the current stage, the role investment plays in promoting economic growth cannot be underestimated," Wen said.
Zhanjiang, in the western part of Guangdong, has lagged behind in economic development over the past few years compared with the prosperous Pearl River Delta region.
The city realized an economic growth of 10 percent year-on-year to reach about 190 billion yuan in 2012, sources with the local government said.
"The two large projects will help promote the city's economic development by bringing about at least 300 billion yuan in industrial output after they are put into operation," said Wang, who is also an NPC deputy. He predicted that the city's economy will reach about 420 billion yuan by 2017.
To push local economic development, Zhanjiang has arranged 92 key projects this year, with a total investment of 306.9 billion yuan.
"We will introduce strict measures to protect the environment. We have also relocated residents near the island to other areas to ensure a sound and healthy living environment for local people," Wang said.
qiuquanlin@chinadaily.com.cn