Chinese firm plans to sow success in Hunan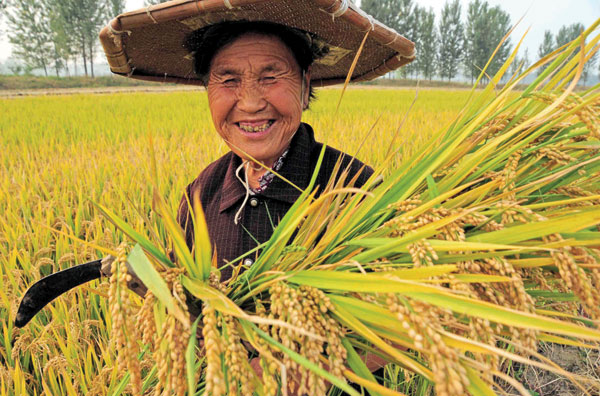 A farmer in Tancheng county in Shandong province. In China, more than 50 percent of the rice crop is hybrid, compared with more than 90 percent in the United States. [Photo/China Daily]
Proposal submitted to CPPCC to build global rice production base
The corporate progenitor of China's hybrid rice plans to break into the top 10 in the world's seed industry within next three years through advanced breeding technology and a larger global presence.
"It will be no easy task because currently, 70 to 80 percent of the world's seed market is still in the hands of the top 10 US seed companies," Wu Yueshi, chairman of the board of Yuan Longping High-tech Agriculture, told China Daily.
Wu said that in its first step to achieve the company's goal, it has submitted a proposal to the current session of CPPCC National Committee to build an "International Rice City" in Changsha of Hunan province, under the leadership of agrarian scientist Yuan Longping, honored as the father of hybrid rice.
"If the proposal is approved, the city will serve as an international production base of hybrid rice to further secure the national grain supply and meet the world's food demand," said Wu, who is also a member of the CPPCC National Committee.
In recent years, China has set up numerous overseas hybrid rice programs. Working with the Ministry of Commerce, the company has helped Libya grow hybrid rice for many years.
Wu's company also runs an international hybrid-rice training center, which has already provided training courses for more than 3,000 government officials and agro-technicians from 50 countries since 1999.
Experts said Chinese hybrid rice is currently traded only to countries like India, Vietnam, the Philippines, and Bangladesh, which have a climate similar to China's, so that most Chinese hybrid rice strains can be cultivated there.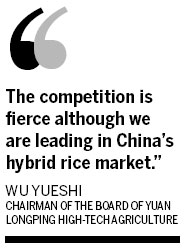 But the global industry for hybrid seeds - already increasing at a fast clip - is a huge market with high potential growth.
In China, more than 50 percent of the rice crop is hybrid, compared with more than 90 percent in the United States.
This explains the reason why Germany's Bayer HealthCare, one of the world's largest pharmaceutical companies, also competes in the hybrid-seed market. Its hybrid rice seeds have already sold to countries such as India and Thailand.
"The competition is fierce although we are leading in China's hybrid rice market," Wu, 54, said. "Many European and US seed companies have a very strong capability for scientific research and global networks with talented people."
Earlier this week, Yuan, a member of the National Committee of CPPCC, said China could reach its target unit yield of 15,000 kg per hectare of paddy rice in 2015, five years ahead of schedule.
"I'm confident we will reach our target," said Yuan.
A team of researchers led by Yuan reached a target unit yield of 10,500 kg per hectare in 2000 and 12,000 kg per hectare in 2005, setting world records both times. In September, his team further raised the yield to 13,800 kg per hectare.
lvchang@chinadaily.com.cn