J&J acquires local rival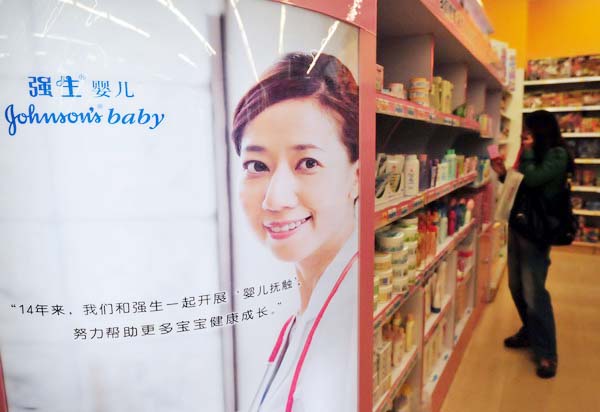 An aisle of baby care products at a supermarket in Beijing. [Photo / China Daily]
Conglomerate solidifies Chinese presence by taking out competition
Johnson & Johnson (China) Investment Co Ltd, the Chinese arm of the giant US consumer goods manufacturer, whose baby care products claim half of the Chinese market, said it has completed the acquisition of a local rival to consolidate its dominance in China.
The company didn't disclose the amount it paid for Shanghai Elsker for Mother & Baby Co Ltd. Industry sources said the acquisition would enable Johnson & Johnson to fend off potential competition that is eating into its market share.
"The transaction is an important strategic decision that has been made based on our continued confidence and long-term commitment to the China market as well as to the Chinese consumers," said Edward Zhou, managing director of personal care business, J&J's China consumer unit.
J&J will further develop the Elsker brand in its personal care business to complement the Johnson's baby franchise, Zhou said, and is "determined to make the brand even bigger a success".
The deal has obtained regulatory approval, according to Wang Xunbiao, a company spokesperson at J&J's China operation.
Founded in 2006, Elsker received an angel investment of 20 million yuan ($3.2 million) in 2007 and then was granted 5.5 million euros ($7.45 million) in funding from Edmond de Rothschild Group's private equity fund in 2009 and 2010, according to an announcement from Business Development Asia LLC, Elsker's PR agency.
Moling Chen, managing director at Edmond de Rothschild Private Equity China Fund, said they are proud to have supported the founding team at a time when believers were few, and that Elsker has consistently executed its growth strategy with impressive results under the leadership of Liu Xiaokun, the company's former general manager.
"We see Johnson & Johnson as the best partner to bring in more resources to further develop the brand. Elsker will benefit from J&J's expertise," Chen said.
China's baby care market has ballooned in recent years, according to figures from Euromonitor International, a London-based consumer market research firm. The retail value of baby and child-specific skin care rose to 2.03 billion yuan by the end of 2011, up 17.35 percent year-on-year. This number is predicted to reach 4.71 billion yuan by 2016.
J&J's dominant position in the sector is being threatened as its market share of child-specific products dropped from 59.1 percent in 2007 to 49.2 percent in 2011, the consultancy said. The company's biggest decline is in the baby-related skin care segment, which witnessed a drop of 11 percentage points in the previous five years to 50 percent in 2011.
Elsker has spent about 10 million euros to establish a production base that meets the Council of Europe's Guidelines on Good Manufacturing Practice of Cosmetic Products, reaching a sales receivable of about 300 million yuan, a number substantial enough to make it as competitive as J&J.
"It's a wise choice for J&J since Elsker is said to have reached 500 million yuan in revenue last year and has penetrated distribution channels from international and local supermarket chains," said Sun Xicai, general manager of Hengmei Cosmetics Co Ltd, a chain makeup retailer in Shandong province.
"I think J&J will keep the Elsker brand as it is, following the acquisition of the Dabao brand in 2008, which has been quite successful," he said.
hewei@chinadaily.com.cn