Demand for oil to rise 4.8%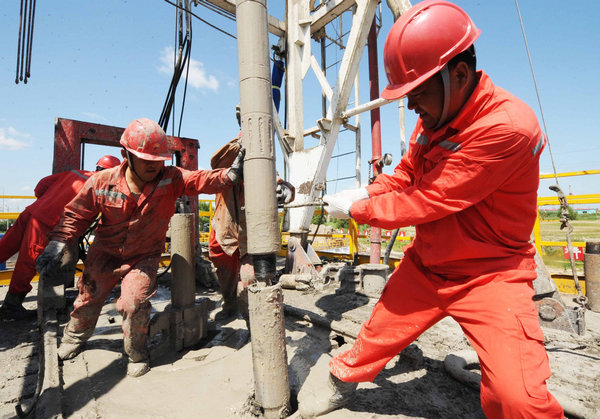 Workers drill an oil well in Daqing, Heilongjiang province. China's domestic crude output will be about 210 million tons in 2013. [WANG JIANWEI / XINHUA]
As China's economy gradually rebounds, its demand for oil will rise at a modest rate of 4.8 percent to 514 million metric tons this year, and imports will continue to grow, the CNPC Economic and Technology Research Institute said on the same day.
The country will import about 289 million tons of crude oil this year, up 7.3 percent year-on-year, according to a report released by the institute under China National Petroleum Corp.
The figure means that about 59 percent of China's crude oil demand will depend on imports in 2013.
"As the country's oil consumption increases, its dependency on foreign imports will continue to rise," said Qian Xingkun, the institute's deputy director.
Meanwhile, domestic crude output will be about 210 million tons.
The CNPC forecast is slightly lower than an earlier estimate by the energy research institute of the National Development and Reform Commission.
In November, Gao Shixian, assistant director-general of the institute under the NDRC, said China will import about 60 percent of the oil it uses in 2013.
China imported 269 million tons of crude last year, with a foreign dependency of about 57 percent.
The country's total crude consumption was 475 million tons, up 4.7 percent year-on-year in 2012, CNPC said.
International oil prices will fluctuate at a high level as they did last year, Qian said.
The average Brent crude price, the benchmark grade for more than half the world's oil, will be about $105 to $115 a barrel this year, according to the report.
The Brent oil price was $111.58 a barrel in the past year.
"If the Iran issue gets worse, which worries the international crude oil market, it will further raise the global oil price," the report said.
The world's daily oil consumption was 89.66 million barrels last year, a 700,000-barrel increase on the previous year. The growth rate was a record low since the beginning of the global financial crisis.
Because of weak oil demand and rising costs, many oil companies in emerging economies saw declines in their profits last year.
Accordingly, the crude exploration investment growth rate was only 11 percent in 2012, much lower than it was in 2011 — about 20 percent.
Global oil reserves increased by 2 percent, mainly from Russia and China.
China's overseas oil and gas exploration rights reached 92 million tons in 2012, up 3 percent compared with the previous year.
However, CNOOC Ltd's contested takeover of Canada-based Nexen Inc shows that State-owned oil companies will face increasing political obstacles in resource-assets acquisitions abroad, the report said.
"The global oil and gas reserves can satisfy the world's demand for this century," said Xu Jianshan, head of the overseas investment research department of CNPC's institute.
He said unconventional oil and gas exploration will change the unbalanced energy supply between East and West.
"For a long period, oil and gas will continue to be the majority of the energy supply because of the obstacles facing new energy's development," he said.
In terms of shale gas development, the report said the enthusiasm for its exploration has cooled down in the United States and has run into obstacles in some European countries.
But countries in Asia, Africa and Latin America are making efforts to improve their shale gas exploration development.
China, India, Argentina and Algeria all conducted tenders for shale gas development.
Chinese private companies are becoming more active in the oil and gas sectors. Especially in the shale gas business, the government allows private companies to participate in bidding for its development.
Contact the writer at dujuan@chinadaily.com.cn
By the end of August, there were 41 private Chinese companies doing businesses in oil and gas exploration in the country, and up to 50 firms are refining companies with a total refining capacity of 40.7 million tons a year, accounting for 7.1 percent of the country's overall number.