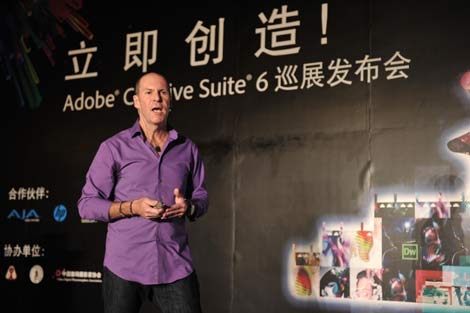 Julian Quinn, Adobe Systems Inc's vice-president for Asia-Pacific, speaking during a Beijing launch ceremony of the company's Chinese-language version of Adobe Creative Suite 6, the latest CS-series product that includes Photoshop, a globally renowned image-editing program. [Photo / China Daily]


Software maker is looking to expand into marketing and advertising
Sitting at Adobe Systems Inc's office in the World Trade Center skyscraper in Beijing, Julian Quinn, the company's vice-president for Asia Pacific, sees business opportunities in the buildings surrounding him.
"China represents a huge business potential for Adobe as the nation's cultural industry is booming," Quinn said.
The Asia-Pacific region is the fastest-developing market for Adobe in terms of revenue, with the momentum mainly driven by emerging markets such as China and India. Their fast-growing economies and large populations provide potentially huge audiences for entertainment and marketing content through digital media.
On June 29, the company released the Chinese-language version of Adobe Creative Suite 6, the latest CS-series products including Photoshop, a globally renowned image-editing program.
Good designing software should be able to help designers create great art as well as increase their effectiveness and save money, according to Quinn. "The CS6 enables Web designers to apply their work on various platforms so they do not waste time developing the same content for different operating systems," he said.
Digital marketing
Adobe became famous for digital content processing tools such as Flash and Photoshop but the company is poised to expand into another area - digital marketing, a service that will help advertisers to place their advertisements more effectively.
"Advertisers know that only 50 percent of their advertising expenditure helps to generate profits but they have no idea which 50 percent," said Quinn, adding that Adobe's marketing service was designed to increase the effectiveness of advertising.
Growing advertising expenditure may explain why Adobe is interested in the industry.
Chinese advertisers spent 51.3 billion yuan ($8.1 billion) on Internet advertisements in 2011, up by 57.6 percent from 2010, data from IT research company iResearch Consulting Group showed. The figure could hit 187 billion yuan by 2015, iResearch predicted.
Adobe has a long-term strategy for the China market. The company is beefing up its marketing teams to better service clients on the Chinese mainland, said Ng Yew Hwee, managing director of Adobe Greater China.
Culture industry
"As China's economy leans more and more on the country's demand, the mobile Internet and private consumption sectors are set to play an increasingly important role in boosting the demand," said Ng. "That will certainly provide more business for Adobe."
The company hopes its digital media and digital marketing products will be a driving force in China's culture industry as the nation issued plans to cultivate the market in an attempt to boost domestic consumption.
Earlier this year, China issued its 12th Five-Year Plan (2011-15) for the culture industry, saying that the government will encourage private investment in the industry and help the development of China's creative culture sector.
Taking the film industry as an example, total box office receipts on the Chinese mainland hit 13 billion yuan in 2011, compared with 2010's figure of 10 billion yuan, statistics from the State Administration of Radio, Film and Television showed. The revenue for filmmakers is set to increase this year, industry insiders predicted.
Both Chinese and imported films used Adobe's software for post-production work, according to Ng.
Adobe's software supported the production of China's animation film Pleasant Goat and Big Big Wolf, as well as the global hit The Avengers, which generated more than 100 million yuan in box office takings in the first two days of its release, Ng said.
Piracy problem
Less than one day after Adobe released the Chinese-language version of CS6, a pirated version was ready for download on the Internet. Quinn and his Chinese colleagues seemed to make a very limited effort to stop it.
Intellectual property rights protection is one of the major concerns for Adobe on the Chinese mainland, Quinn admitted. Besides cooperating with local governments, Adobe also attempted to teach its users the advantages of using copyrighted software.
Adobe has trained more than 80,000 students in China since 2010, the company said. It also provided discounted software to Chinese students as an answer to piracy.
Overseas companies should be confident about China's legal system as the nation is busy ensuring it is made sound, legal experts said.
"The issue of intellectual property rights is getting increasing attention from local companies. Overseas enterprises should carefully review this sector when entering the market," said Yao Huanqing, associate professor of the law school at Renmin University of China.
"China's lawmakers are mulling more measures to make the laws in China meet international standards," Yao added.
gaoyuan@chinadaily.com.cn