China, the world's second-largest corn consumer, may soon start importing Argentine corn, which has been barred because some genetically modified varieties are yet to be approved by Beijing.
"We believe issues with genetically modified seeds can be resolved in the next 60 days", Argentine Agriculture Minister Norberto Yauhar said at a recent news conference in Beijing.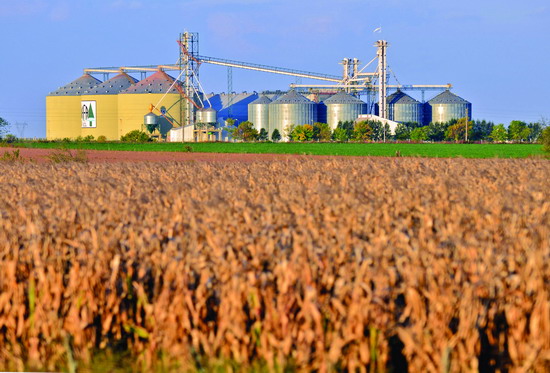 Silos behind a cornfield near Rojas, Argentina. Chinese media reported in March that the country had signed agreements to purchase 40 million metric tons of Argentine corn this year. [Photo / Agencies]  
Premier Wen Jiabao is set to visit Argentina next month, accompanied by Agriculture Minister Han Changfu and Ren Zhengxiao, director of the State Administration of Grain.
Given China's rising demand for corn, agricultural analysts said this could help the country diversify its corn supply and reduce its reliance on supplies from the United States.
China signed an agreement with Argentina on corn imports in February and the pact was expected to take effect on April 20. But some varieties of genetically modified crops, popular among South American farmers, are prohibited by China and therefore blocked from the Chinese market.
Chinese media reported in March that the country had signed agreements to purchase 40 million metric tons of Argentine corn this year.
China's corn consumption more than doubled over the past decade, thanks to the growing demand from the country's livestock industry, which has steadily driven up corn imports.
During the first four months of this year, corn imports stood at 1.76 million tons, more than the total amount last year, according to the General Administration of Customs. Most of China's corn imports now come from the US.
Chinese industry analysts estimate the country's corn imports this year will be between 3 million and 4 million tons, while the US Department of Agriculture set its forecast at 6 million tons in a report released earlier this month.
Argentine corn is currently exported to other Asian countries including Japan and South Korea, and "we are looking forward to China's market", said Fernando Martinez de Hoz, a senior trader at the grains division of the Buenos Aires-based exporter Nidera SA.
Argentine corn could compete with US corn in both quality and price and may prove popular among China's private mills, said Ma Wenfeng, a senior analyst at Beijing Orient Agribusiness Consultant Ltd, one of the largest consultancies in the industry.
But as agricultural trade becomes increasingly important in balancing Sino-US trade, large State-owned importers, which control about 60 percent of the country's corn import quota, may still stick to US corn for "political reasons", Ma added.
Argentina has in recent years made it a priority to increase agricultural exports to China.
During the past two years, Argentina has signed protocols to allow exports to China of corn, bovine semen and embryos, barley, beef and dairy products. The South American country is also a major soybean supplier for China.
zhousiyu@chinadaily.com.cn