Chinese companies seek chances in Japan as demand wanes in Europe
Chinese solar companies are expanding into Japan, where the solar industry is receiving more government support as the country is reducing its dependence on nuclear power following a nuclear accident last year.
Chaorisolar Energy Science and Technology Co Ltd and Sky Solar Holdings Co Ltd plan to develop 100 megawatts of solar projects with an investment of 7.5 billion yen ($93.9 million) in Japan this year. The cooperation will help increase Chaorisolar's sales of solar panels as the demand for those products wanes in large markets such as Europe.
Chaorisolar is a Shanghai-based maker of photovoltaic products and Sky Solar builds solar farms, where solar electricity can be generated on a large scale.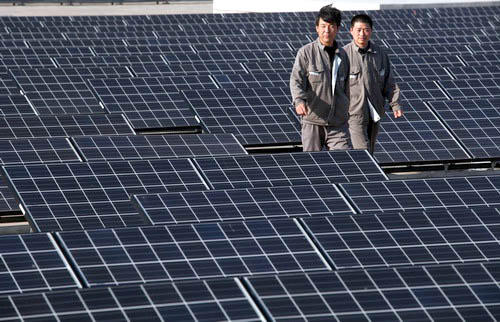 Workers check solar panels at a wastewater treatment facility in Tianjin Eco-City, a joint project between China and Singapore, on April 25. [Photo/China Daily] 
The project is expected to generate gross profits equal to as much as 10 yuan ($1.60) a watt, Chaorisolar said.
Other companies have moved or are moving into the country.
Hareonsolar Technology Co Ltd, plans to establish a subsidiary in Japan, the company said in a statement last month.
Yingli Green Energy Holding Co Ltd recently opened a subsidiary in Tokyo, and Trina Solar Ltd also set up an office in Japan, showing the companies' interest in the market.
Canadian Solar Inc opened a subsidiary in Japan in 2009, when the country adopted a feed-in-tariff ensuring that private homes that used photovoltaic systems would receive payments for power they generated. The company also plans to build and operate solar farms in Japan.
Suntech Power Holdings Co, which makes the most solar cells of any manufacturer in the world, moved into the Japanese market in 2006 by acquiring MSK Corp, a maker of solar equipment.
"Today, we are a strong player in the Japanese solar industry with a 5 percent market share," Yutaka Yamamoto, Suntech Japan president, said on the company's website.
Yamamoto said he expects Suntech will command at least 10 percent of the Japanese market in 2012, when new feed-in-tariffs will take effect.
Japan began reconsidering its energy plans after leaks at its Fukushima Daiichi nuclear plant following an earthquake and a tidal wave in March last year. The country is now trying to secure more sources of safe, renewable energy and the government is looking toward solar energy for that purpose.
By 2011, Japan had 1.2 gigawatts of solar capacity, a number expected to increase by 40 percent in 2012.
As the Japanese government prepares to put in place new feed-in-tariffs in July 2012, both foreign and local manufacturers think they see an opportunity opening up.
liuyiyu@chinadaily.com.cn