Foreign banks' profits lag domestic results
Updated: 2011-09-20 09:34
By Gao Changxin (China Daily)
| | | | | | | | | | | |
| --- | --- | --- | --- | --- | --- | --- | --- | --- | --- | --- |
|   | | Comments() | | Print | | Mail | | Large Medium  Small | 分享按钮 | 0 |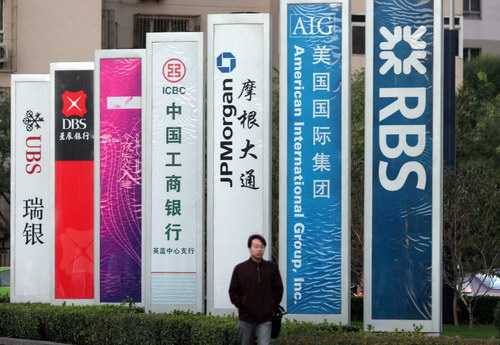 Many foreign banks are located in the Financial Street in Beijing. Foreign banks have been increasing rapidly and their deposits grew 43 percent from 2009 to 2010. [Photo/China Daily]
Competition for deposits, talent holds back overseas institutions
SHANGHAI - Earnings of foreign banks in China grew more slowly last year than those of their Chinese counterparts, according to a report published on Sept 19.
Profit at the China operations of foreign banks increased 24 percent on average, but one-third posted losses or recorded a decline in profit, said the report by accounting firm KPMG LLP.
The report covers 33 of the 37 locally incorporated foreign banks in China.
The rate lags behind the average 36 percent growth of China's banking sector in 2010, the report said, and it is also well below the level of 2008, when growth peaked.
HSBC Holdings Plc, the largest foreign bank in China, with more than 100 outlets, saw its profit grow 28 percent in 2010 to 922 million yuan ($144 million). But that was only half of the 1.8 billion yuan it achieved in 2008.
Deutsche Bank AG's China operation posted profit of 46.3 million yuan in 2010, down 13 percent from 2009.
In contrast, China's biggest lender by assets, Industrial and Commercial Bank of China Ltd, reported a 28 percent jump in profit in 2010 to 165.16 billion yuan, following a 16 percent rise the previous year.
China Merchant Bank Co Ltd's net profit jumped 41 percent to 25.8 billion yuan in 2010, compared with a 13.5 percent decline in 2009.
A major reason that foreign banks have lagged is that it is hard for them to attract deposits in China, the report said. Having more deposits means a bank can extend more loans, which generate profits.
"One key challenge facing foreign banks in China is liquidity," said the report. "Growing deposits in a market where you cannot compete on deposit rates and have a limited branch network is very challenging."
Deposits at foreign banks have been increasing rapidly. Their deposits grew 43 percent from 2009 to 2010, outpacing the 35 percent average for the whole banking sector, according to the report.
But they are still cash-strapped. The average loan-to-deposit ratio at the end of 2010 for the 29 foreign banks that disclosed the figure is about 102 percent, well above the ratio of 75 percent required by the China Banking Regulatory Commission by the end of 2011.
"Meeting the 75 percent loan-to-deposit ratio requirement by the end of this year will be difficult for certain foreign banks," the report said.
Competition for talent among foreign banks also pushed up costs and slowed their profit growth, Simon Gleave, regional head of financial services at KPMG, based in Beijing, told the Wall Street Journal.
"People are relatively mobile between the foreign banks and they jump ship pretty regularly," said Gleave.
"Competition between banks for good people has pushed up costs a lot. I don't think that's going to change in the near future."
Foreign banks are competing for a small pool of talented staff who speak Chinese and English or another foreign language and have skills and experience.
Competing with local banks in retail banking seems hard. But one area where foreign banks have "a great deal of opportunity", the report said, is yuan internationalization-related services, including yuan-denominated trade settlements, which were introduced by the government in 2009.
This month, banking authorities in Shanghai, the capital of China's foreign banks, said most of the foreign banks in the city are making that business one of their priorities.
JPMorgan Chase & Co and Deutsche Bank's yuan-denominated trade settlement businesses in Shanghai each exceeded 10 billion yuan in the first half.