China Unicom Q2 profit outstrips analyst estimates
Updated: 2011-08-26 09:56
By Edmond Lococo (China Daily)
| | | | | | | | | | | |
| --- | --- | --- | --- | --- | --- | --- | --- | --- | --- | --- |
|   | | Comments() | | Print | | Mail | | Large Medium  Small | 分享按钮 | 0 |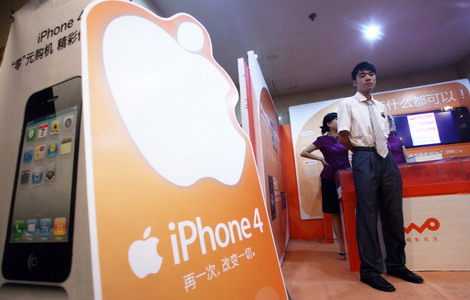 A poster for Aplle Inc's iPhone 4 at an outlet of China Unicom Ltd in Fuzhou, Fujian province. The company has a total of 23.95 million 3G subscribers at the end of June. [Photo / China Daily] 
BEIJING - China Unicom (Hong Kong) Ltd, the nation's second-largest mobile phone company, posted second-quarter profit that surpassed analysts' estimates, as the company signed up more users who surf the Web with their phones.
The net income rose 50 percent to 2.48 billion yuan ($389 million) in the three months ended June 30, from a restated 1.66 billion yuan a year earlier, the company said in a statement. The profit exceeded the 969 million yuan average of four analysts' estimates compiled by Bloomberg.
Unicom, the nation's only carrier that offers Apple Inc's iPhone with a service contract, set a goal in March to add 25 million mobile subscribers this year. The company's Chairman Chang Xiaobing is trying to reduce subsidy costs by expanding offerings of handsets costing 1,000 yuan or less, such as ZTE Corp's V880.
"The company is still in a transition from heavy reliance on iPhone to lower-end smartphones," Wang Jinjin, an analyst at UBS AG in Hong Kong, wrote in a report on Thursday after the earnings were announced. "Fundamental factors such as handsets and distribution are well on track."
Revenue rose to 52.4 billion yuan in the second quarter, according to figures derived from first-half results, beating the average estimate of 50.6 billion yuan from eight analysts compiled by Bloomberg.
Unicom rose 0.4 percent to close at HK$13.70 ($1.76) in Hong Kong trading, before the announcement.
The shares have gained 23 percent so far this year.
3G handsets
Subsidies for third-generation (3G) handsets in the second quarter were 1.16 billion yuan, less than some analysts had estimated, according to figures derived from first-half data Unicom reported on Thursday.
In March, the carrier said it began adopting a so-called "relative fair-value method" of accounting for subsidies, which resulted in the restatement of results retroactive to Jan 1, 2010.
The company was projected to spend 1.2 billion yuan on handset subsidies in the second quarter, according to Jim Tang, an analyst at Shenyin & Wanguo Securities Co in Shanghai. The figure was projected at 1.5 billion yuan by UBS analyst Wang. The subsidies contributed to a 3 billion yuan loss at the company's 3G mobile unit in the first half, Chang told reporters at a briefing in Hong Kong. The unit will be profitable in the second half, he said.
Smartphones boost
Unicom added 5.41 million 3G subscribers in the second quarter, for a total of 23.95 million at the end of June. Cumulative additions of 10.5 million in the first half accounted for 42 percent of the full-year goal for subscriber additions.
"We are confident of hitting our full-year target of 25 million new 3G subscribers," Chang told reporters at the briefing. "Our policy of introducing more entry-level smartphones will help us gain 3G subscribers."
Chang said he couldn't say when the company will be able to offer Apple's new iPhone 5. Unicom's cooperation with Apple has "a beautiful past and a bright future", Chang said.
The company still lagged behind China Mobile Ltd's 35 million 3G users at the end of June, according to data the companies released last month. Unicom's total mobile customer base of 181.6 million was less than one-third of China Mobile's total of 616.8 million.
China Mobile, the world's biggest phone carrier by users, posted a 7 percent gain in second-quarter profit on Aug 18, beating analysts' estimates after data traffic rose on demand for smartphone games and videos.
Bloomberg News