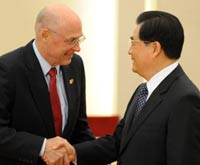 President Hu Jintao greets US Treasury Secretary Henry Paulson during meeting at the Great Hall of the People in Beijing, December 5, 2008. [China Daily]
China and the United States agreed on Friday to provide an additional $20 billion to stimulate trade in emerging markets.
"The new sources of financing are expected to send an important signal to emerging markets that both nations are committed to sustaining trade flows," US Treasury Secretary Henry Paulson said at the end of the two-day Strategic Economic Dialogue (SED).
The two sides agreed that the Export-Import Bank of China will contribute $8 billion and the US Export-Import Bank $12 billion to help finance exports to the markets.
The countries also agreed to provide more open access to each other's markets, as part of their efforts to deepen bilateral economic ties.
China has agreed to allow foreign incorporated banks to trade bonds in its inter-bank market, and said it will also allow foreign banks operating on the mainland to borrow capital from their affiliates overseas on a temporary basis to boost liquidity and confidence in the lenders. The loans will not count toward foreign banks' short-term debt quotas.
Meanwhile, the US agreed to speed up approvals for Chinese financial institutions investing there, which may help inject fresh capital into its financial market. [Full Text]
Related Readings:
High-level dialogue vital to ties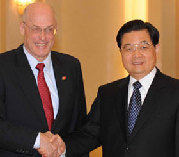 President Hu Jintao (R) meets with United States Treasury Secretary Henry Paulson in Beijing, Dec. 5, 2008. [Xinhua]
Top officials from both sides of the Strategic Economic Dialogue (SED) expressed hope that the incoming Obama administration would continue the highest-level economic dialogue between China and the United States, as the semiannual mechanism ended its fifth two-day session on Friday.

President Hu Jintao and Premier Wen Jiabao both congratulated US Treasury Secretary Henry Paulson for the "tremendous achievements" of the latest dialogue during their separate meetings with the special representative of US President George W. Bush, after the session ended at noon on Friday.[Full Text]
Paulson signs out with hugs, laughs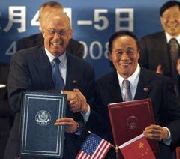 Henry Paulson (L) and Vice Premier Wang Qishan (R) trade agreements.
In his many years as the United States' top China hand, Henry Paulson captured the hearts, or at least the cameras, of the Chinese media.
Images of him hugging former vice-premier Wu Yi and fervently shaking hands with her successor Wang Qishan were just two among many that made the front pages of the nation's press.
On Friday, the 62-year-old Treasury secretary gave photographers one more opportunity, as he addressed the fifth Sino-US SED, his last time as head of the US delegation. [Full Text]
Beijing has called on Washington to stabilize its precarious economy and protect its investments in America as the two sides opened strategic economic dialogues, which is overshadowed by the churning crisis of the global economy.
"We hope the US side will take the necessary measures to stabilize the economy and financial markets, as well as to guarantee the safety of China's assets and investments in the United States," Vice Premier Wang Qishan told US Treasury Secretary Henry Paulson and other US officials at the Strategic Economic Dialogue in Beijing. [Full Text]
China, US end fifth SED 'ahead of schedule'
China and the United States concluded a high-profile economic dialogue on Friday morning, with "important consensus" reached on the financial turmoil and critical issues of the two economies.

The two sides agreed to "strengthen financial regulation together" and "enhance the role of developing countries in international financial institutions", Chinese Vice Premier Wang Qishan told reporters. [Full Text]
Paulson gives address to end 5th China-US SED
"Thank you to my counterpart, Vice Premier Wang Qishan, and our Chinese colleagues for their hospitality during these past days. And thank you to my Cabinet colleagues for your active participation in and continued commitment to the Strategic Economic Dialogue between the United States and China."[Full Text]
Columnist: Adios -- and let's talk again


There's an old saying in Texas, the home state of US President George W. Bush: If it ain't broke, don't fix it. And in Michigan, president-elect Barack Obama's home state (okay, they may now be trying to fix what is clearly broke), the gameplan when things were running well was: Make 'em bigger, and better.

So it is a bit perplexing that some Thomases who can't make up their minds in the United States are raising doubts about the continued well-being of the China-US Strategic Economic Dialogue, the fifth round of which began yesterday and ends today. [Full Text]
Call to combat protectionism
China and the US need to be persistent in their fight against protectionism amid the global economic turmoil, Minister of Commerce Chen Deming said on Thursday.

The fight against protectionism, removing trade barriers and pushing forward the Doha round of WTO talks are the top concerns of the two countries at the fifth Strategic Economic Dialogue (SED) in Beijing.[Full Text]
Seven eco agreements signed
China and the US Thursday signed seven ecological agreements under the 10-Year Cooperation Framework to explore concrete policies on energy security and protecting the environment. Among the agreements signed were "eco-partnerships" between Energy Future Holding Corp of the US and China Huaddian Corporation, and between Kansas-based Wichita and Jiangsu-based Wuxi. [Full Text]
China urges US to protect investment
China hopes to join with the United States to "actively promote" negotiation for a bilateral investment protection accord, said Chinese Vice Premier Wang Qishan here Thursday.
Wang made the remarks when addressing the opening morning of the fifth China-US strategic economic dialogue (SED). He said strengthening bilateral investment protection would help establish a fairer, more transparent and predictable environment for mutual investment. [Full Text]
Paulson: Engagement with China yields results
US Treasury Secretary Henry Paulson said Tuesday that the engagement with China through the Strategic Economic Dialogue (SED) has helped yield many results.

We have learned that engagement works, that engagement can help achieve meaningful, tangible results that would not have been possible otherwise," Paulson told a Washington forum ahead of the fifth SED in Beijing this week. [Full Text]

Holding high hopes for joint solutions
The Sino-US Strategic Economic Dialogue (SED) will start its fifth two-day session on Thursday in Beijing, with all eyes on how the two major economies will face the global financial crisis together even as Washington prepares for a handover of power to the Obama administration next month. [Full Text]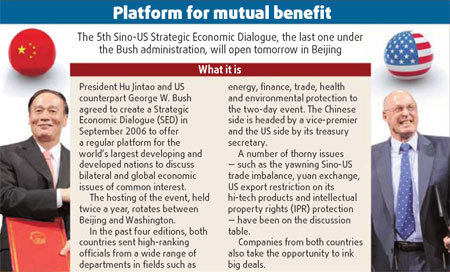 Initiated by President Hu Jintao and his US counterpart George W. Bush in 2006, the semiannual dialogue has become a major channel for policymakers in the two countries to maintain frequent contact and enhance mutual trust.