China and the US need to be persistent in their fight against protectionism amid the global economic turmoil, Minister of Commerce Chen Deming said on Thursday.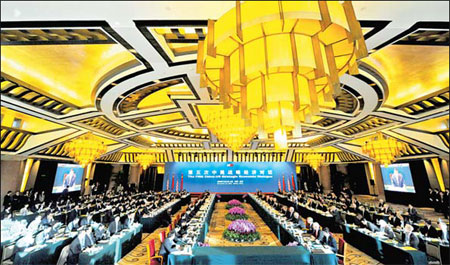 The Diaoyutai State Guesthouse is lit up in all its grandeur on the first day of the fifth China-US Strategic Economic Dialogue in Beijing Thursday. [Agencies] 
The crisis has spread from the financial sector to the non-financial sector, Chen said. And China's manufacturing and exports sectors have suffered because of the falling demand worldwide since October.
The fight against protectionism, removing trade barriers and pushing forward the Doha round of WTO talks are the top concerns of the two countries at the fifth Strategic Economic Dialogue (SED) in Beijing.
The US trade representative Susan Schwab corroborated Chen, saying the US had maintained its stance of trying to remove trade and investment barriers and to combat protectionism at the SED.
China's reform and opening up have helped the country maintain a fast growth rate, Chen said. "WTO members should act against protectionism by adhering to WTO rules."
"China will continue to show good faith in the WTO, and we hope the US side does the same," Chen said.
Chinese businesspeople are interested in investing in the US, he said. "The best way of making them confident enough to invest in the US is to reduce trade conflicts and investment barriers," he said.
China is particularly concerned over four aspects of trade barriers and protectionism - free trade of textile products, expanding high-tech products trade, its market status, and the misuse of anti-dumping and countervailing measures, Chen said.
"China will continue to open up its market for international capital," he said.
The government is trying to improve transparency by promulgating new rules and regulations, improving administrative efficiency and educating the people about intellectual property rights. China and the US are also pushing forward the Bilateral Investment Treaty (BIT), signed at the fourth SED in Washington in June.
Chen said the two sides would continue to negotiate to resolve their disagreements. The two countries are among the seven core negotiators in the multilateral trade talks that involve about 150 countries.