BEIJING -- China hopes to join with the United States to "actively promote" negotiation for a bilateral investment protection accord, said Chinese Vice Premier Wang Qishan here Thursday.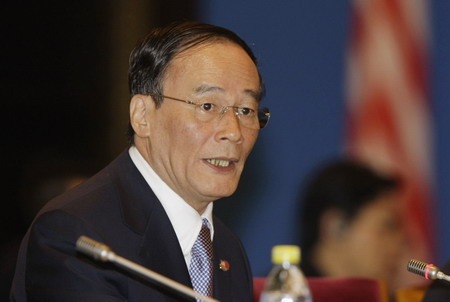 Chinese Vice Premier Wang Qishan speaks during the opening session of the 5th China-US Strategic Economic Dialogue in Beijing December 4, 2008. [Agencies]
Wang made the remarks when addressing the opening morning of the fifth China-US strategic economic dialogue (SED). He said strengthening bilateral investment protection would help establish a fairer, more transparent and predictable environment for mutual investment.
Wang said negotiation for the signing of a bilateral investment protection agreement has made positive progress. He called on the two sides to make concerted efforts to advance the negotiations based on the principles of equality, cooperation and mutual benefit while taking into consideration the situation of each country and balancing the major concerns of both sides.
Mentioning current trade disputes between the nations, Wang noted a fair and open international trade system is conducive to the healthy development of the world economy.
"China is willing to work with the United States to combat trade protectionism in any forms and support the resumption of the World Trade Organization's (WTO) Doha round talks for comprehensive and balanced outcomes", Wang said.
Initiated by the two presidents in 2006, the twice-yearly SED is the highest-level among the existing China-US dialogue and consultation mechanisms. This week the two-day meeting is being held in Beijing.
Wang and the US Treasury Secretary Henry Paulson are co-chairing the current dialogue as special representatives of President Hu Jintao and President George W. Bush.