China and the United States agreed on Friday to provide an additional $20 billion to stimulate trade in emerging markets.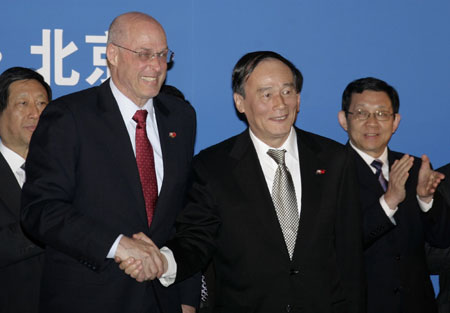 China's Vice-Premier Wang Qishan (R) shakes hands with US Treasury Secretary Henry Paulson after the 5th China-US Strategic Economic Dialogue in Beijing December 5, 2008. [Agencies]
"The new sources of financing are expected to send an important signal to emerging markets that both nations are committed to sustaining trade flows," US Treasury Secretary Henry Paulson said at the end of the two-day Strategic Economic Dialogue (SED).
The two sides agreed that the Export-Import Bank of China will contribute $8 billion and the US Export-Import Bank $12 billion to help finance exports to the markets.
The agreement came after the World Bank forecast world trade will decline next year for the first time since 1982.
Falling global demand and the lack of trade credit are the main reasons, it said.
At the Group of 20 meeting last month, World Bank member institution, the International Financial Corporation, pledged to double its Global Trade Finance Program from $1.5 billion to $3 billion.
"The Chinese economy, like the US economy, depends on global trade, and China is stepping up its efforts to promote global growth and stability," Paulson said.
Related readings:


High-level dialogue vital to ties


Agreements open up financial sector


SED ends with 'important consensus'


The 5th China-US SED


President Hu hails fruitful dialogue
The countries also agreed to provide more open access to each other's markets, as part of their efforts to deepen bilateral economic ties.
China has agreed to allow foreign incorporated banks to trade bonds in its inter-bank market, and said it will also allow foreign banks operating on the mainland to borrow capital from their affiliates overseas on a temporary basis to boost liquidity and confidence in the lenders. The loans will not count toward foreign banks' short-term debt quotas.
Meanwhile, the US agreed to speed up approvals for Chinese financial institutions investing there, which may help inject fresh capital into its financial market.
China Merchants Bank, the country's fifth largest, opened a New York branch in October, while China Construction Bank Corp, the nation's second largest, is waiting for approval for its US branch after submitting an application last year.
The US said it welcomes foreign investment in the financial sector and "commercially oriented" investments made through China's foreign exchange reserves and sovereign wealth fund.
China Investment Corp (CIC), the nation's only sovereign wealth fund, spent $5 billion last year for a 9.9 percent stake in Morgan Stanley, and invested $3 billion in US private equity firm Blackstone.
The fund, with registered capital of $200 billion, has lost almost $6 billion because of the financial turmoil.
On Tuesday, CIC Chairman Lou Jiwei said he did not dare invest in financial institutions, because of unclear government policies on them.
Zhu Guangyao, assistant minister of finance, said at a press conference on Friday he has not heard of any plans from CIC to add new capital.
He also urged major economies to stabilize their currencies.
"A stable external economic environment is very important for those developing countries affected by the financial crisis. We hope industrialized countries will shoulder the responsibility and take measures to maintain stability of their currencies," Zhu said.
Although it was not listed as a topic for the SED, the currency issue aroused concern prior to the dialogue given the recent decline in the value of the yuan against the dollar.
In a fact sheet issued by the US, it recognized that "currency movements will be uneven over shorter periods", but it also encouraged China to "continue, and accelerate" the appreciation and flexibility of the yuan.