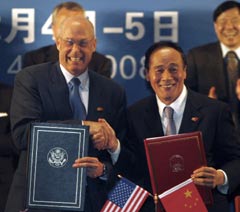 US Treasury Secretary Henry Paulson (L) and Chinese Vice Premier Wang Qishan (R) trade agreements and shake hands at the Eco Partnership signing ceremony during the US China Strategic Economic Dialogue in Beijing December 4, 2008. [Agencies]
In his many years as the United States' top China hand, Henry Paulson captured the hearts, or at least the cameras, of the Chinese media.
Images of him hugging former vice-premier Wu Yi and fervently shaking hands with her successor Wang Qishan were just two among many that made the front pages of the nation's press.
On Friday, the 62-year-old Treasury secretary gave photographers one more opportunity, as he addressed the fifth Sino-US SED, his last time as head of the US delegation.
The former Wall Street banker, and member of the outgoing Bush administration, will step down next month.
In a farewell speech to his Chinese counterparts, Paulson said: "We all can be proud of what we have built through the SED.
Related readings:


SED agreements open up China's financial sector


SED ends with 'important consensus'


The 5th China-US SED

Hu hails fruitful economic dialogue
"Our countries will no doubt face challenges, but with the foundation of mutual respect, trust and candor fostered by the SED, I have no doubt we will come through them."
Clearly in high spirits, Paulson laughed heartily several times during his meeting with President Hu Jintao on Friday afternoon at the Great Hall of the People, providing plenty of his trademark photo opportunities.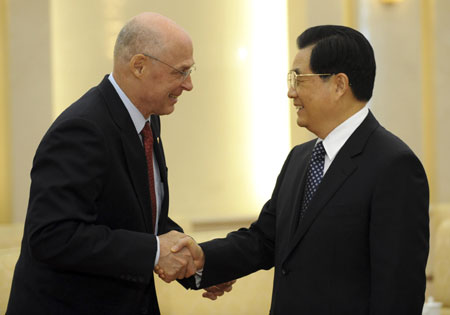 Chinese President Hu Jintao (R) meets with United States Treasury Secretary Henry Paulson at the Great Hall of the People in Beijing, capital of China, Dec. 5, 2008. [Agencies] 
The past five rounds of SED talks, all of which Paulson took part in, have tackled many difficult issues, including food safety, trade and the environment.
Wu Xiaoqiu, an economics professor at Beijing's Renmin University of China, said: "Dialogue and communication is the right way to solve problems between the two major economies."
While Paulson has been criticized by some US lawmakers for not pressing China on its currency, he once told reporters that it was the SED that prevented Congress from passing legislation that would have deepened tensions between the two countries.
The question now is who will continue Paulson's work.
Although New York Federal Reserve President Timothy Geithner, who assisted Paulson in the recent US bailout action, has been named as the next Treasury secretary, some experts wonder if the Treasury Department will continue to be a key agency in steering the bilateral relationship, or even if the SED will continue at all.
Lawrence Summers, the incoming director of the National Economic Council; Vice-President-Elect Joseph Biden Jr; and Senator Hillary Rodham Clinton, Obama's choice for secretary of state, are all expected to be major coordinators on China policy.
However, none of them has the China experience that Paulson brought with him from his tenure at Goldman Sachs.
Paulson demurred on the question of how the Obama administration will handle the SED and China relations.
On his departure from the Treasury, he said earlier that he expects China to continue to play a part in his life, although he drew the line at learning Mandarin. "I've got a very poor ear for languages," he said.