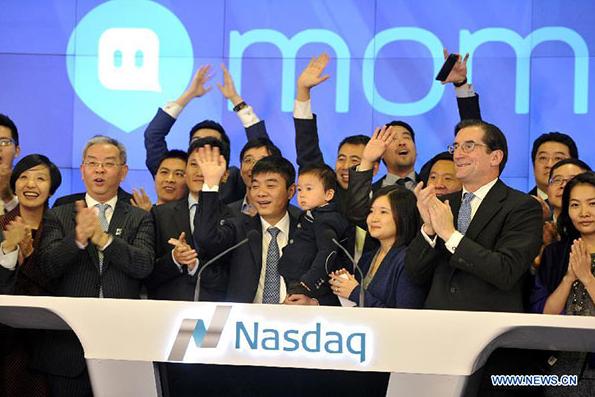 Tang Yan (center, front), founder and chief executive officer of China's mobile social networking platform Momo Inc attends the ceremony of ringing the opening bell at the NASDAQ in New York, the United States, Dec 11, 2014. [Photo/Xinhua]
Dating app Momo surged 33.6 percent after a regulatory filing showed Alibaba Group Holding's finance affiliates joined the group seeking to take the company private.
Momo closed at $16.09 per American depository receipt on Wednesday, up $4.05, marking its biggest gain since the dating platform went public, raising $248 million on the NASDAQ in December 2014.
According to the filing, Alibaba Investment and Rich Moon, or Yunfeng Fund, have become the latest members backing a buyout of Momo that chairman and CEO Tang Yan proposed last June.
The consortium group also includes Matrix Partners China, Sequoia Capital China and Huatai Ruilian Fund Management.
The history between Alibaba Group and Momo dates back to as early as 2012, just one year after its founding, when the e-commerce giant acquired 20 percent stake in the company. Momo named Alibaba's co-founder Joseph Tsai as its board director in February.
Analysts expect the privatization to proceed more smoothly with strong backing, as according to Bloomberg, only seven out of the 40 US-traded Chinese firms that earlier proposed privatization over the past 12 months have completed the process.
Last month, shareholders of New York-listed Qihoo 360 approved a $9.3 billion privatization plan, as the company aims a domestic initial public offering later this year.