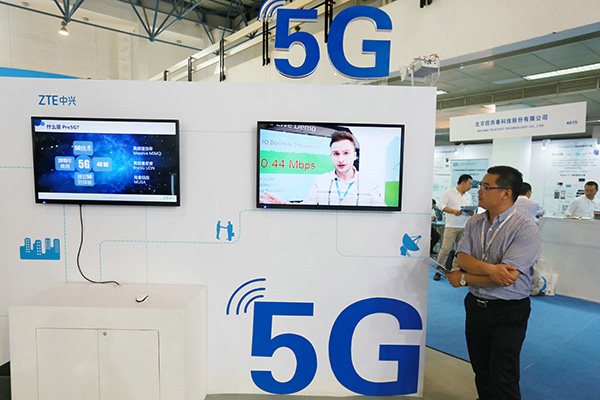 ZTE's stand at a technology expo in Beijing, Sept 22, 2015. [Photo/CFP] 
Chinese tech companies and telecom carriers are speeding up their efforts to develop 5G communications technology and hope to hold trials in 2018.
The new generation of network, which is expected to offer superfast speed, will allow users to download an 8-gigabit movie in a few seconds and execute tasks that are impossible in the 4G era, such as autonomous manufacturing and the widespread use of robots.
China plans to fully commercialize 5G in 2020 and the nation's tech companies say they are making significant progress.
Huawei Technologies Co, the world's largest telecom equipment manufacturer, for instance, says it is already set to apply 4.5G technology, an important step on the road to 5G.
Huawei is aiming to upgrade 60 networks to 4.5G this year by partnering with global telecom carriers, including TeliaSonera AB in Norway.
Also known as pre-5G technology, 4.5G networks will be able to improve data transfer speeds through the use of existing telecommunications infrastructure, before international standards that define 5G networks are rolled out.
"We are the first to show the world that it is possible to boost the Internet speed to over 1Gbps from 150 Mbps by using the current 4G infrastructure," said Xu Weiwen, strategic and marketing president at Huawei. Xu made the comments during an interview with Chinese news portal sohu.com.
"The breakthrough lays a technological foundation for the Internet of Things and 2016 will be the first year to see large-scale commercialization of 4.5G," said Xu.
On the eve of the Mobile World Congress, the world's largest exhibition aimed at the mobile industry, Huawei conducted a live trial of its LTE-Advanced Pro-based 4.5G technology, achieving download speeds of 1.41Gbps.
Xiang Ligang, founder of the telecom industry website cctime.com, said: "It is still several years away before the international community reaches a consensus on 5G network standards."
But the demand for superfast Internet speed is growing quickly amid the increasing popularity of services such as cloud computing, streaming ultra-high-definition videos and connecting home appliances via smartphones.
"So, it makes great sense to experiment with 4.5G. Technologies enabling the large-scale commercial use of 4.5G are very likely to be accepted as part of 5G standards," Xiang said.
China Mobile Communications Corp, the nation's largest telecom carrier, is also aiming at the 5G market, despite only kicking off its 4G services a little more than two years ago.
It set up a 5G innovation center in late February when it teamed up with 11 partners, including Huawei, Ericsson, Nokia Corp and Qualcomm Inc.
"5G will fundamentally change the telecom sector and Internet industries. We need to make joint efforts on innovation," said Li Zhengmao, vice-president of China Mobile.
The company will start laboratory and field experimentation on 5G technologies this year and the center will focus on 5G technologies that support the Internet of Things and the use of the Internet in manufacturing and industrial production.