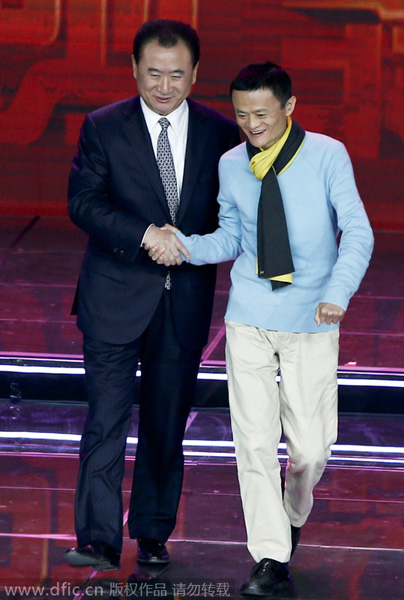 Jack Ma (right) and Wan Jianlin (left) shake hands at CCTV "China Annual Economic Figure" ceremony in Beijing, Dec 12, 2012. [Photo/IC] 
China's wealthiest man Jack Ma is in a close match with contenders for his spot, as his e-commerce empire Alibaba Group fell 4.4 percent on Wednesday, one day before its scheduled earnings announcement.
Alibaba Group closed at $98.45, down 4.36 percent, marking its biggest decline since December, after the authorities accused it of failing to crack down on counterfeits goods.
"Alibaba hasn't paid enough attention to illegal operations on its platform," said the State Administration for Industry and Commerce in a report on Wednesday. "Alibaba faces not only the biggest credibility crisis since its founding, but also casts a negative influence for other e-commerce operators."
Attention has been drawn to the e-commerce behemoth since its mega-sized initial public offering in September last year, which raised a record $25 billion. Its shares have soared 44.8 percent from $68 each.
Along the surge in stock price, Jack Ma, with about 7.8 percent stake in Alibaba Group, has become Asia's wealthiest person with a $28.6 billion fortune, according to Bloomberg in December.
However, the decline on Wednesday diminished Alibaba's market cap by 60 billion yuan, reported the 21st Century Business Herald, which equals to a $780 million decrease in Ma's wealth.
According to Bloomberg, 19 analysts estimate the company to report an average of 6.8 percent growth in net income to 8.9 billion yuan in the three months ended in December.
Strong contenders
The wealth gap between Jack Ma and Wang Jianlin, president of Dalian Wanda Group, has narrowed, according to 21st Century Business Herald, after Wang's cinema line started trading on Jan 22.