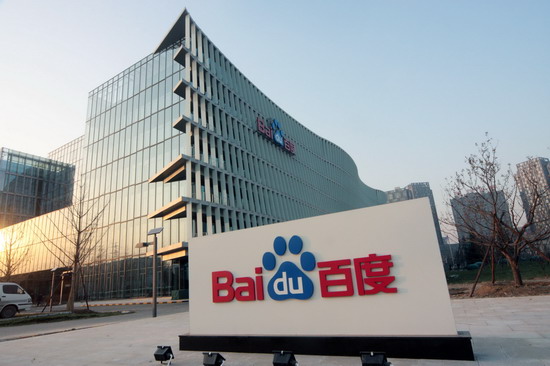 A side view of Baidu's headquarter in Beijing, May 22, 2014. [Photo/IC]
Baidu Inc, the Chinese Internet search giant, said that items involving local lifestyle and services, education and training, and news will be the most frequently searched queries in 2015.
According to the China Mobile Website Trend Report released by Baidu on Wednesday, the number of searches made by users using Baidu's search app were for local services, such as for nearby restaurants or cafes around the corner.
As well as seeking location-based results, most searches also choose the latest information available, the report showed.
Beijing-based Baidu is China's top mobile search engine with 136 million active monthly users in December, according to statistics from Internet consultancy Analysys International.
Despite slowing growth in the number of active daily users of smartphones in China, mobile search requests received by Baidu increased significantly, leading to billions of page views to third-party websites every day, said Li Dongmin, senior director of the company's mobile search unit.
Li also said the number of mobile websites that were been included in the company's search figures jumped 105 percent last year compared with 2013.
Baidu, which accounts for about 80 percent of China's mobile search market, said in the report that search requests on education and training, local lifestyle and services, people and news dominated the landscape, and that trend is expected to continue.
The growth of search queries on online education, for instance, soared 191 percent year-on-year in 2014, followed by a 142 percent surge in searches made for local lifestyle and services, of which search requests for movie tickets grew 194 percent, the highest increase in the report.
Pang Yiming, an analyst with Beijing-based Analysys International, said: "The burgeoning demand for local information is likely to mean continued appetite for Baidu's search app. Though there are other apps offering people easy access to find the perfect restaurants or services based on their location, not every mobile Internet user likes to unload and install various apps in their smartphone. It is much easier for them to find whatever they want via Baidu's app. "
Baidu's report also showed that compared with text-based search requests, newly invented voice-based search requests and picture-based search request have seen growing popularity.