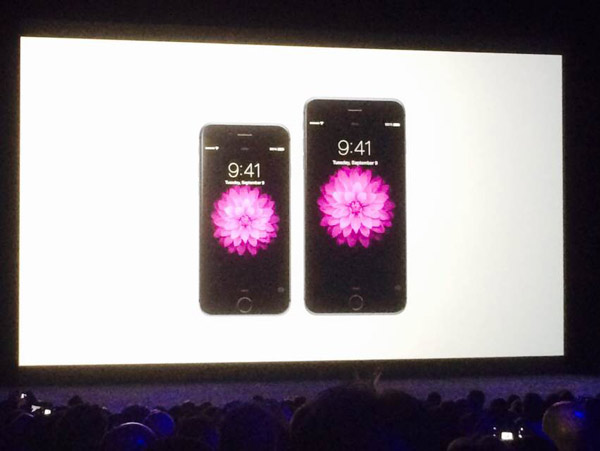 Apple announces the Iphone 6 and the Iphone 6 Plus, September 9, 2014. [Photo by Eric Jou/chinadaily.com.cn]
CUPERTINO, Calif. - Apple Inc unveiled a watch, two larger iPhones and a mobile payments service on Tuesday as Chief Executive Officer Tim Cook seeks to revive the technology company's reputation as a wellspring of innovation.
The first new product to be developed and introduced under Cook's reign is a wearable device tethered to the iPhone that will combine health and fitness tracking with communications. It will price at $349 and go on sale in early 2015.
Ben Wood, a top mobile phone industry analyst with CCS Insight based in the UK, said Apple's smartwatch devices will propel a so-far lackluster product category into consumer consciousness.
"For Apple's competitors it will turn a tough category into a nightmare," Wood said.
Indeed, rival watch and wearable device makers are keeping a wary eye on Apple, which up-ended the music industry and drove once-dominant phone makers like Blackberry to the brink of extinction, and whose iPad helped shrink personal computer sales for a time before they recently recovered.
Apple has an enviable track record when it comes to mobile hardware, though it tends not to be the first to introduce a new-fangled product category. Rival electronics giants such as Sony Corp, Samsung, LG Electronics Inc and Qualcomm Inc have already launched smartwatches, albeit without much success.
The price tag on the new "Apple Watch" is loftier than some expected, coming in at $50 more than the cheapest version of the iPhone 6 with a contract.
Bernstein Research analyst Toni Sacconaghi had estimated on Tuesday before the event that if Apple were to sell 30 million watches at $250 each, it would add about $7.5 billion to its revenue.
Apple's new watches will be available in three distinct collections, including a sport edition and an upscale line coated in 18-karat gold. Whether the devices can win over fashion-conscious consumers may prove key to mainstream appeal. Initial impressions from critics who glimpsed the watch were positive.
"Compared to what's out there, it feels like it's very slender. I like the level of elegance and the three different lines, which include sport and luxury," said Angela Tafoya, at fashion blog Refinery29.
The pressure was on for the world's largest tech company to wow at its "special event" in Cupertino. The prospect of the new watch attracted a broader swathe of attendees than usual, with celebrities, fashion industry editors and even healthcare executives rounding out the mostly tech-industry crowd.
Shares of the company closed nearly unchanged. Apple's stock tends to rise in the run-up to a major product launch, and come under selling pressure afterward.