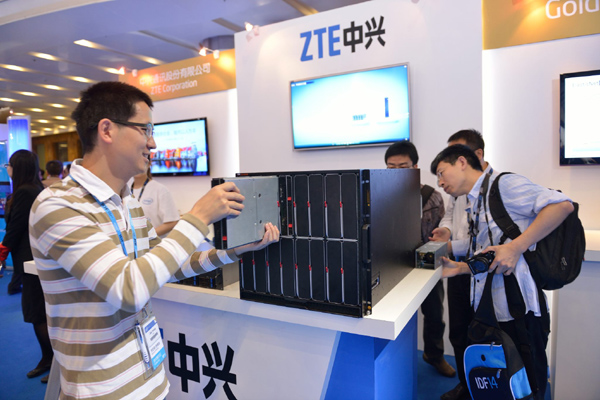 Customers check out ZTE Corp's products at an exhibition in Shenzhen, Guangdong province. The company on Thursday requested the European Commission to investigate the licensing practices of Vringo Inc, a US-based telecom patent developer. Provided to China Daily
Chinese phone maker accuses US firm of 'abuse of IPR, patent assets'
Mobile phone maker ZTE Corp's antitrust move in Europe may prompt more Chinese companies to file similar complaints, industry experts said on Friday.
The Shenzhen-based ZTE had on Thursday requested the European Commission to investigate the licensing practices of Vringo Inc, a United States headquartered telecom patent developer, on grounds that Vringo was in violation of the EU's fair, reasonable and non-discriminatory terms on patent licensing.
"It is appropriate for ZTE to take meaningful initiatives to protect its IP interests in Western markets, especially as other Chinese IT companies are reluctant to do so," said Xiang Ligang, a well-known telecom researcher and founder of industry site CCTime.com.
"ZTE steadfastly opposes all forms of abuses of intellectual property, and the improper use of patent assets as a tactic in licensing negotiations," the company said in a statement, adding it reserves the right to pursue further action across different jurisdictions.
Vringo did not immediately respond to the charges, when contacted.
Europe is ZTE's major focus outside of China. Senior executives told China Daily earlier this year that the company is aiming double-digit revenue growth in the region over the next five years.
"Chinese IT companies seemed hand-tied and passive when dealing with overseas IP lawsuits in the past due to their lack of patents," Xiang said. Chinese companies, defenders in most cases, also ended up on the losing side in most of the cases or had to pay huge amounts as settlement fees, he said.