Benz brings 'intelligent innovations' to Guangzhou
Updated: 2013-11-21 14:49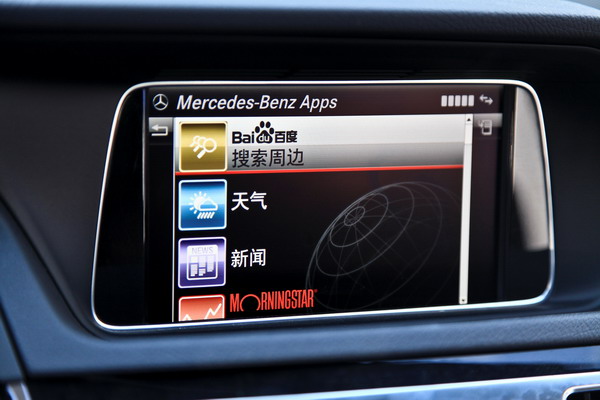 Mercedes-Benz CONNECT puts convenience, infotainment and security at customers' fingertips. [Photo / China Daily] 
Advanced technology
As the inventor of the automobile, Mercedes-Benz continues to push the industry forward with its innovative technologies.
Intelligent Drive relies on state-of-the-art radar and camera based assistance systems to make the road a safer place for everyone. With features like DISTRONIC PLUS with Steering Assist, which helps the driver keep the car at a fixed distance from the vehicle in front, and the new-and-improved PRE-SAFE Brake system, which can recognize pedestrians, Mercedes-Benz' Intelligent Drive technologies offer significantly enhanced safety for drivers, passengers and pedestrians alike.
World of convenience
In today's increasingly globalized world, instant access to information has become an indispensable part of daily life.
A comprehensive in-vehicle telematics system tailor-made for Chinese consumers, Mercedes-Benz CONNECT puts convenience, infotainment, and safety and security at your fingertips. With a 24-hour call centre and powerful information features, Mercedes-Benz CONNECT can assist with travel reservations, look up real-time traffic information, provide emergency assistance services in times of need, and more. Keeping drivers relaxed, informed, and safe, Mercedes-Benz CONNECT provides intelligent solutions for our increasingly connected lives.
It is often said that it's not how you start, but rather how you finish. With an unprecedented array of intelligent surprises, Mercedes-Benz is ready to end 2013 with a bang at Auto Guangzhou.