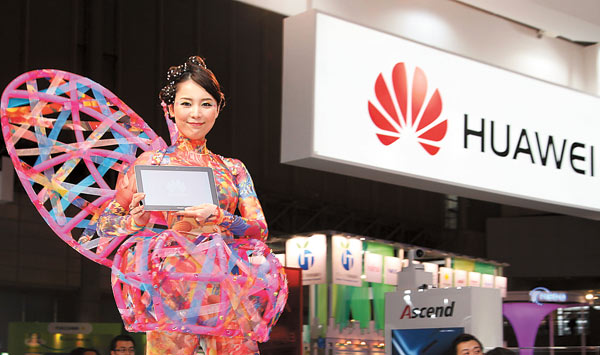 A model displays Huawei Technologies Co Ltd's Ascend tablet at a consumer electronics show in Chiba, Japan. The company started to explore the overseas market about a decade ago and now has 70,000 research and development staff globally. [FENG WUYONG / XINHUA]
Chinese telecom equipment maker Huawei Technologies Co Ltd said it is deeply committed to the European market, especially in the United Kingdom, since the country provides a superb investment environment.
Huawei will sink $200 million into a new research and development center in the UK. In addition, the company is working closely with BT Group, a British telecom service group, to expand a national broadband network that currently covers 15 million UK households, Huawei said in a statement on Thursday.
Victor Zhang, chief executive officer of Huawei UK, said the country is home to an outstanding pool of talent and a hub for world-class business services.
"London is one of the world's best-established strategic finance hubs and one in which Huawei has based its global Finance Risk Control Center," Zhang said in the statement.
"As a renowned and influential design hub, it is also an extremely conducive environment for innovation. In partnership with leading British design institutions, Huawei's London-based global device design center will guide design concepts for our flagship smartphones and devices," Zhang said.
The new R&D center will be located at the Ipswich research office, which now has about 80 staffers. By 2017, the center is expected to employ more than 300 senior researchers.
In the next five years, Huawei plans to invest 5 million pounds ($8.17 million) with which several elite UK colleges can develop big data and fifth-generation (5G) mobile network technologies, according to Zhang.
In June, Huawei expanded its operations with a new UK headquarters in Reading. The company will invest 1.3 billion pounds over a five-year period.
Xiang Ligang, a Beijing- based telecom expert, said Huawei's aggressive expansion into the European market is in stark contrast to the company's standoff in North America, where Huawei has met with stiff entry obstacles.
"The British market indeed lends more support to Huawei," Xiang said.
Britain is set to conditionally clear Huawei to run a UK-based cyber security center next week after a review found the center to be safe, according to an article in The Times on Wednesday.
Before his China trip, Prime Minister David Cameron cited Huawei's investment in the UK and said "there should be no limit to the cooperation that we look for".
Huawei supplies software and equipment that channel calls and data across the UK but has found itself at the center of a debate, especially in the United States, over whether it is risky for governments to give foreign suppliers access to their networks.
Huawei, which denies any wrongdoing and maintains its work is secure, opened a technology center in Oxfordshire, in southern England, in 2010 to test the security of its software and hardware, and to ensure that the UK network would not be exposed to outside hacking or spying.
Nick Baird, CEO of UK Trade & Investment, said that the fact that Huawei had not experienced any obstruction on the part of the British government demonstrates the country's openness to foreign investment.
"Huawei is a very welcome investor in the UK. We are confident about the investments we have with Huawei, and we are looking forward to them growing their investments even further," said Baird.
Contact the writers at shenjingting@chinadaily.com.cn and zhangchunyan@chinadaily.com.cn