On China's roads, luxury risks becoming ordinary
Updated: 2013-11-21 11:05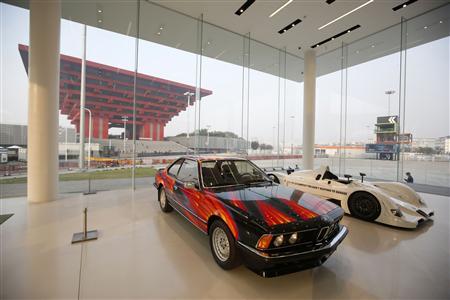 Cars are seen inside the BMW Experience Center in Shanghai November 19, 2013.[Photo/Agencies]
Shanghai - Luxury car dealers are resorting to offering customers massages, mini-golf and other gimmicks, hoping this will give them an edge in a ferociously competitive Chinese market where brand loyalty is less common than in the West.
Premium car sales slowed in China last year as the economy eased off the throttle and new Communist Party leadership was installed, but momentum is returning, and China is set to overtake the United States as the world's top luxury car market by 2020 with annual sales of close to 3 million cars.
A victim of its own recent success, the Chinese market has become a hyper-competitive battleground. Five years ago, there were fewer than a dozen luxury car models sold under five premium brands. Today, that has exploded to more than 90 models offered by 25 brands, says market research firm TNS.
China last year displaced the United States as BMW's leading market, and the German premium brand sold 317,822 vehicles in January-October of this year, a fifth more than a year earlier. Porsche increased its China sales last year by 28 percent to 31,205 vehicles, closing in on its sales in its biggest market, the United States.
Liu Zheng, a 54-year-old history professor in Shanghai and owner of a BMW 5-Series sedan, sums up the problem facing premium carmakers such as BMW, Mercedes-Benz and Volvo.
"On Chinese roads, there are too many BMWs, too many Mercedes, too many Audis," said Liu as he looked around a downtown Shanghai store for a new China premium brand called Red Flag, made by State-owned FAW Car Co Ltd. "There are very few Red Flag cars. If you own one, people would feel you're unique."
As Western premium brands have become almost commonplace on Chinese city streets, moneyed locals have scaled further up to Aston Martin, Porsche, Jaguar and even McLaren, Ferrari and Lamborghini to stand out from the crowd. Ford is launching its storied Lincoln brand in China next year, adding to a competitive field that also includes the likes of Infiniti and Tesla.
Audi will open its Innovation Exhibition at the Guangzhou auto show on Thursday, showcasing its technologies and concept cars such as the Crosslane Coupé, as well as the new generation Audi 3, including the plug-in hybrid A3 Sportback e-tron.
"China is the market with the highest competition. There's no other market that offers more brands," said Boris Weletzky, a Beijing-based BMW sales-and-marketing executive tasked with leading the German firm's charm offensive to give its brand more cachet, and stop drivers like Professor Liu, from defecting.