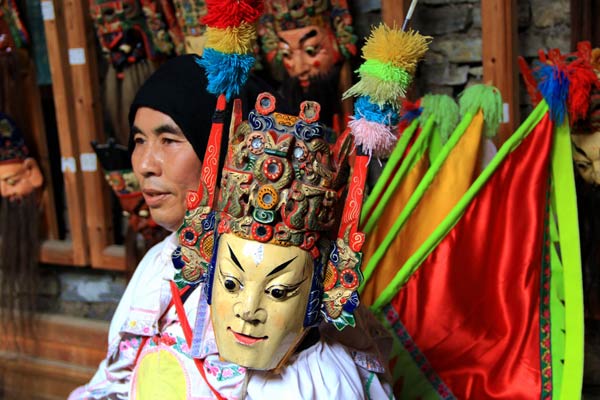 Anshun Opera is among the vast array of distinctive cultures in Guizou.LI FUSHENG/CHINA DAILY
The Chinese name BMW uses translates as "precious horse" while the province of Guizhou literally means "precious state".
The two met in late June when the horse galloped in to explore the cultural richness of the southwestern province.
Home to about 50 ethnic groups, Guizhou is well known for its distinctive charms and cultural gems such the Kam grand choir, silver jewelry and batik cloth.
Yet many ethnic treasures in the province are endangered by rapid social and economic development. Some day they could become history for good.
Such abundant Chinese heritage is why the German luxury automaker began an annual culture journey in 2007, providing material support and awakening public awareness of the need to protect cultural heritage across the country.
Increasing awareness plays a fundamental role in protecting China's intangible cultural heritage, said Luo Wei, deputy director of China Intangible Cultural Heritage Center at start of this year's event.
From June 27 to July 4, a fleet of more than 20 BMW cars and SUVs traveled two routes in the province and experienced some 40 intangible heritage items in their natural settings.
Along the eastern route, the caravan visited villages of the Dong ethnic group and listened to traditional songs and music played on copper drums and a reed-pipe instrument called the lusheng. The tour also witnessed traditional craftspeople at work making embroidery, batik and silver jewelry.
It then headed for the western part of the province where they experienced the centuries-old Anshun Tunpu culture, the Buyi culture and the King Yalu culture of the Miao.
The heroic tale of King Yalu sung at funerals for many generations was officially named a national cultural heritage item in 2011.
A 10,819-line version of the tale has since been published, with more research expected in the future.
The BMW fleet also visited a village called Tianlong Gupu in Pingba county. With origins traceable to the early Ming Dynasty (1368-1644), villagers are descendants of ethnic Han soldiers who manned a garrison in the area. Even today locals speak a dialect that closely related to the one in Nanjing, a former Ming capital.
The village is also home to an opera that people perform wearing masks made of wood that are believed to show respect to gods and help dispel evil. The opera was made a cultural heritage item in 2006.
Wang Yanjun, a veteran participant in the event, said the traditional cultures of Guizhou are "extremely beautiful and precious".