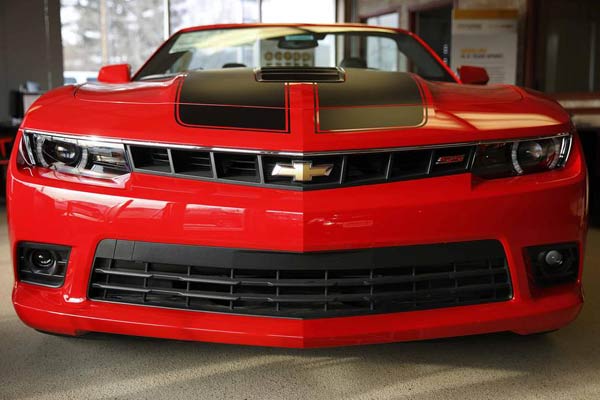 2014 Chevrolet Camaro is pictured in Thurmont, Maryland, the United States, February 6, 2014. [Photo/Agencies]
As Transformers: Age of Extinction opens in theaters, General Motors Co is betting on the latest installment of the alien-robot saga to help jump-start Chevrolet sales in China.
The rebot of the movie franchise, which features battling robots that convert into cars and trucks, opened in China and the United States on Friday and includes vehicles such as the Chevrolet Camaro sports car and Trax small sport-utility vehicle. The fourth movie in the series gives GM a marketing tool as it introduces six Chevrolets in the country this year.
The goal "is to use it as a springboard for launching new products", Tim Mahoney, the global chief marketing officer for the Chevrolet brand, said last week in an interview.
The brand could use a boost in China. Chevrolet last year failed to keep pace with the nation's 16 percent growth for passenger vehicles, with sales rising 8.5 percent to 652,077. Transformers has melded the summer popcorn spectacle with US car culture in a way that has resonated in China, where its middle class has been fueling the world's largest auto market.
GM's relationship with Transformers goes back to the first film in 2007, which included a bright yellow Chevrolet Camaro called Bumblebee. Mahoney said he's seen the effect of the movie on the streets of China, where more than 70 percent of Camaro sports cars are purchased in the same color as the character. In the US, it's just 5 percent.
"The yellow is pretty well associated with Chevy and I think a lot of it, I can't prove it, but I suspect a lot of it has to do with the role Bumblebee played," he said.
GM, based in Detroit, plans to use Chevrolet to expand into China's smaller cities and the country's western region. The brand's slower growth last year came "from not having the freshest product in the highest growth segments", said Bill Russo, president of Synergistics Ltd, a Shanghai-based consulting firm.
Cristi Vazquez, a GM spokeswoman, declined to say how much GM spent to be part of the movie.