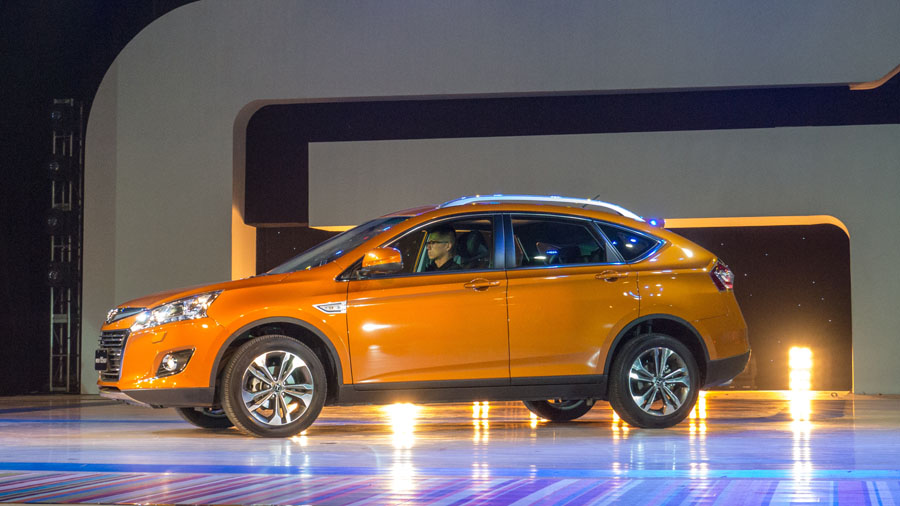 Luxgen U6 is pictured at the launch ceremony in Beijing on June 6, 2014. [Hao Yan / chinadaily.com.cn]
Dongfeng Yulon launched its latest sporty crossover model Luxgen U6 in the Chinese market on Friday in Beijing, and unveiled prices for the line-up starting at 128,800 yuan ($20,600).
The car maker is expecting U6 crossover impress young generation customers with itst sporty performance, superior styling, advanced design and high configuration, according to a speech by Dongfeng Motor Corporation's General Manager Zhu Fushou at the launch ceremony.
"The Luxgen U6 received more than 6,500 pre-orders since its debut in April at the Beijing auto show…and about 2,000 orders are placed through the company's Taobao Tmall online store," said Shan Zhidong, head of sales at Dongfeng Yulon Motor Co.
The model comes with turbo-charged 1.8-liter or 2-liter engines, both with Variable Valve Timing, offering the strongest power output in its class. The 1.8T engine has a maximum output of 116 kw and peak torque of 230 Nm. The 2.0T engine' highest output is 132 kw and peak torque is 256 Nm.
A 6-speed automatic transmission is used on the 2.0T edition, and a 5-speed intelligent AT on the 1.8T edition. A driver will also find the paddle-shift that's usually installed in sports cars.
The 4,625 millimeter length and 1,620 mm height secures the 0.33 wind resistance coefficient. U6 passengers may experience a smooth ride in the cabin, with a wheelbase of 2,720 millimeters, which is the longest in its class.
Besides the high-profile exterior design, the interior features a THINK Plus mobility information system that includes multimedia entertaining, telecommunication, the Internet, and a HTC mode to sync a smartphone.
The crossover equipped with advanced safety technologies usually applied in high-end SUVs is present: the Eagle View 360 degree imaging system, high-sensitivity night vision and Yulon's sophisticated Driver Alert System consists of Lane Deviation Warning System, Front Collision Warning System and Pedestrian Detection System.
The car maker revealed the manufacturer suggested retail price starting from 128,800 yuan to 166,800 yuan for U6's four editions with 1.8T engine, and 159,800 yuan to 200,800 yuan for the three 2.0T editions.
Established in 2010, Dongfeng Yulon is a 50-50 joint venture between Dongfeng, one of the Chinese mainland's top automakers in Hubei province, and Taiwan province's Yulon, which created the original Luxgen brand in 2008.