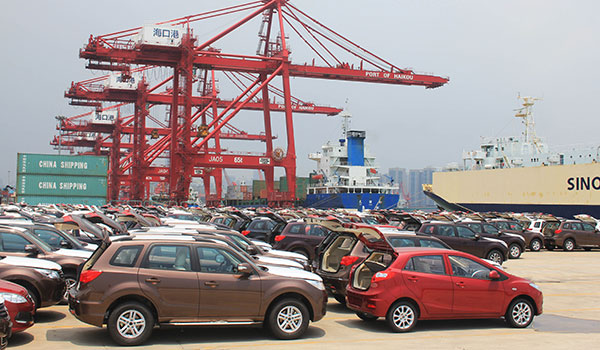 Cars await for export at a port in Haikou, Hainan province. Brand perceptions and distribution networks are key elements for robust growth in China's auto market in the next few years, analysts say. [Shi Yan / For China Daily]
BEIJING - China's Ministry of Commerce (MOC) said on Saturday that it has reservations about a World Trade Organization (WTO) expert panel ruling on an automobile trade dispute between China and the United States.
A statement by a senior official at the ministry's treaty and law department was made after the WTO panel ruled on Friday that part of China's anti-dumping and countervailing measures on certain automobiles from the United States were inconsistent with WTO rules.
"The Chinese side holds reservations about the panel's rulings on such issues as the calculation of dumping margins and price effects," said the official who did not give his name.
The panel found that the MOC made a mistake in its determination of the residual anti-dumping and countervailing duty rates for unknown exporters of the product, according to the panel's report.
Meanwhile, the MOC supports part of the report which is fully supportive of China in the definition of domestic industry and partially in favor of China in a few other issues.
Investigations into the auto market showed that US car makers have received government subsidies and dumped their vehicles into the Chinese market, which has substantially harmed China's auto industry, the MOC concluded back in 2011.
China had since levied anti-dumping tariffs from 2 percent to 21.5 percent and countervailing duties of up to 12.9 percent according to the level of subsidies US carmakers received from their government, both of which expired on Dec 14, 2013.