China could learn from the United Kingdom and establish a green investment bank to back the development of its energy conservation and environmental protection industries, economists said.
Such a bank could fill the funding gap that many companies in these sectors experience.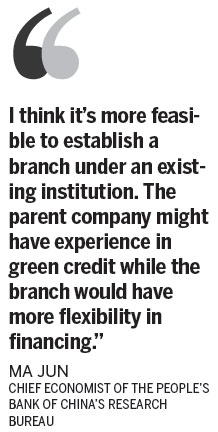 Most of them require a lot of capital in the initial period and few can break even in the short term, making it difficult for them to get funding support from commercial banks or similar channels.
China can use the UK's experience as a reference and establish its own green investment bank, making green bonds a principal source for financing, Ma Jun, chief economist of the People's Bank of China's research bureau, told the Eco Forum Global Annual Conference Guiyang 2014 on Thursday.
"Personally, I think it's more feasible to establish a branch under an existing institution. The parent company might have experience in green credit while the branch would have more flexibility in financing," the central bank official told China Daily on the sidelines of the forum.
The green investment bank of the UK, the first of its kind in the world, was created by its sole shareholder, the UK government, with initial capital of 3.8 billion pounds ($6.5 billion) to invest in projects that accelerate the country's energy transition.
Though some local government financing vehicles have sold bonds related to green projects, China doesn't have an actual green bond to date, said Ma.
"To distinguish green bonds from other bonds, I think they should have lower financing costs and greater support from the government, such as tax exemptions," he said.
The nation could explore other ideas, such as setting up a green credit system and encouraging green discount loans, implementing a mandate for green insurance in some areas and stepping up the establishment of China's carbon trading market, said Ma.