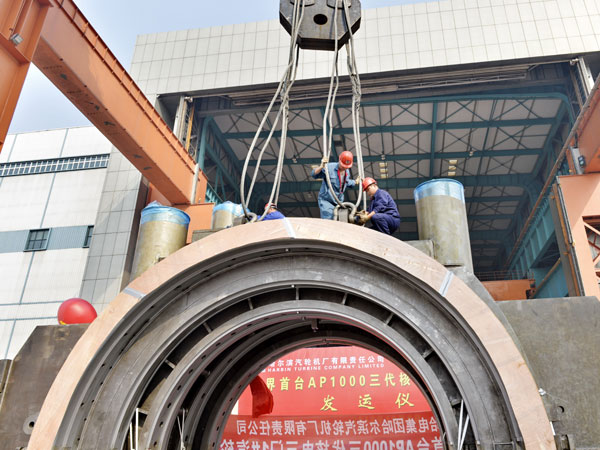 Westinghouse Electric Corp's third-generation AP1000 nuclear power equipment being transported in Qinhuangdao, Hebei province. The inland Hunan province hopes to have a plant using the equipment operating in 2020. Provided to China Daily
Government's battle to reduce air pollution requires more capacity
Energy officials called on Wednesday for efforts to restart inland nuclear power projects in Hunan province within the term of the 13th Five-Year Plan (2016-2020) as the nation struggles to cut air pollution.
"Nuclear power is crucial and a necessary choice for Hunan to restructure its energy mix and generate enough power to meet demand, since there has been a huge gap between energy supply and demand in the region," said Wang Liangfang, director of the Hunan Provincial Energy Bureau.
Wang spoke during the 4th China Nuclear Sustainable Development Forum held in
Beijing
.
Wang, who's also deputy director of the Hunan Development and Reform Commission, said that China should prepare as soon as possible to build inland nuclear projects that were suspended until 2015 under a central government moratorium.
Hunan has two nuclear power projects on the drawing board - the Taohua River power station and the Xiaomoshan project. Construction could start on both, since the preliminary engineering work and documentation are almost completed, he said.
The Taohua River plant is likely to become the nation's first inland nuclear power station. The first phase, with two reactors using third-generation AP1000 technology developed by Westinghouse Electric Corp, is scheduled to break ground in 2016 and start generating power in 2020.
China suspended its nuclear program after the Fukushima nuclear power plant disaster in Japan in 2011.
The ban on construction of coastal nuclear plants has been largely lifted as most nuclear power plants in China are located on the coast and generally use seawater for cooling reactors that use a direct once-through cycle.