Woman uses live broadcasting to sell pomegranates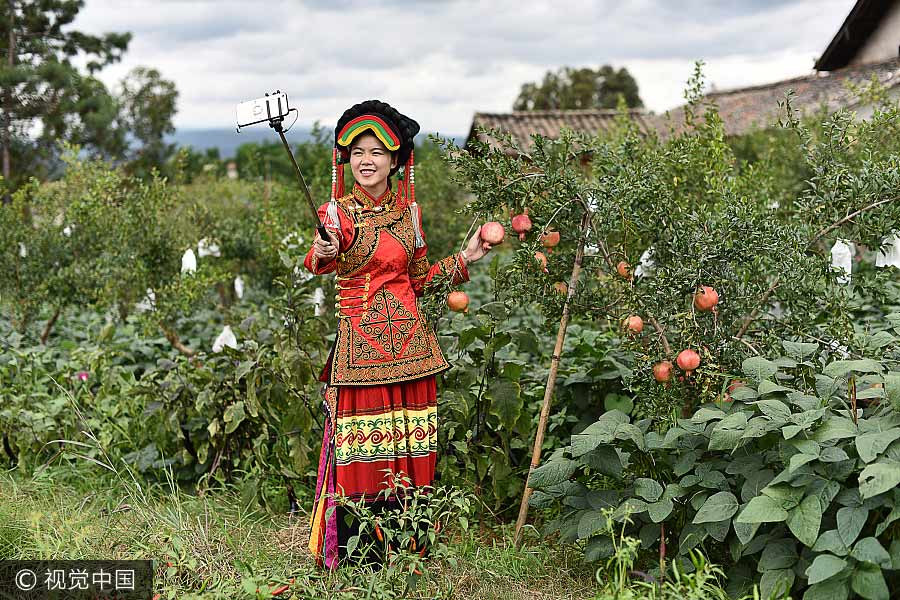 Zhou Lan uses live broadcasting to help her family sell pomegranates in Huili county, Southwest China's Sichuan province, on August 12, 2017. [Photo/VCG]
Zhou Lan, one of a few university graduates in a village of Southwest China's Sichuan province, helps her family sell pomegranates on the live broadcasting platform, earning up to 180,000 yuan a month in the harvest period.
The 22-year-old comes from Huili county, well-known for its high-quality pomegranates as they are seldom exposed to chemical fertilizers.
Despite fierce competition of live broadcasting on the internet, Zhou has become popularly known as "pomegranate sister". And the result exceeds Zhou's expectation. "I don't even speak mandarin well," she said.
Although live broadcasting is a part-time job for Zhou, she made a lot of efforts to figure out how to improve her live broadcasting in her spare time, including learning from local experts.
In order to do the live broadcasting, Zhou Lan sometimes has her father bring her on his motorcycle to the pomegranate field. If not, she spends 40 minutes walking to the field, and she said that sometimes she goes back and forth to the field three times in a day.