First half 's Chinese IPO tide may ebb in Jul-Dec on curbs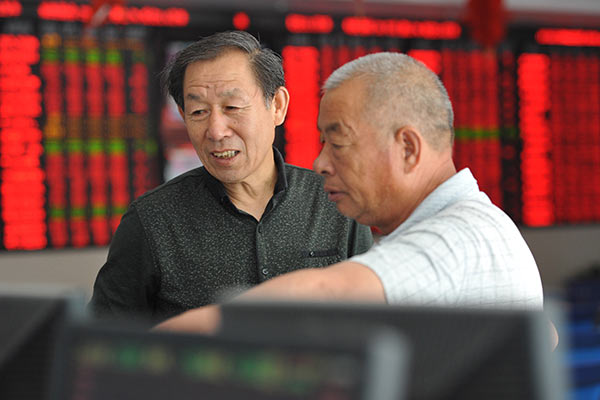 Investors check out stocks at a brokerage in Fuyang, Anhui province. [Photo by An Xin/For China Daily]
Two stock exchanges in the Chinese mainland accounted for almost 32 percent of the IPOs worldwide in the first half of this year, according to a report published by professional services provider Ernst & Young.
But the money that will likely be raised via the A-share market IPOs is expected to fall in the second half.
The Shenzhen Stock Exchange topped global bourses with 126 IPOs in the first half, followed by Shanghai with 120 and Hong Kong with 69.
In all, there were 772 IPOs globally that raised $83.4 billion. In terms of proceeds, New York topped the list, followed by Shanghai and Shenzhen.
IPOs in China's A-share market raised 125.6 billion yuan ($18.47 billion) in the first half, up 336 percent year-on-year.
Shen Yan, EY assurance service partner, said, "The number of companies seeking to go public, which sought the approval of the China Securities Regulatory Commission, dropped 20 percent from the end of last year to 585."
Shen said IPO approvals in the first half were stricter. The rejection rate rose to 14 percent from 7 percent of the previous year.
Industrial enterprises in the A-share market topped the list, both in terms of the number of IPOs (79) and the amount raised (34 billion yuan).
Companies engaged in telecommunications, media, technology, materials, consumer products, retail and healthcare were also prominent in the IPO list.
Financial services IPO proceeds shrunk as there were not many large banks that sought to list during the period.
Strict control of backdoor listing-the practice of bigger unlisted companies buying out smaller listed companies and then carrying out reverse mergers to become listed-has led to a significant decrease in backdoor A-share IPOs to only four from 12 in the first half of last year.
"In the second half of this year, the A-share market is expected to see a decrease in IPOs and an increase in small and medium-sized companies' IPOs," said Shen.
The inclusion of China A shares in the MSCI Emerging Markets Index will attract more international capital flows, he said.
The EY report showed that the 69 companies that went public in Hong Kong in the first half raised HK$53.8 billion ($6.9 billion), up 24 percent year-on-year. The number of IPOs rose 82 percent.
Terence Ho, EY Greater China Strategic Growth Markets and IPO leader, said the surge in Hong Kong IPOs was led by the recovering fundamentals of emerging economies, the low valuation of Hong Kong stocks as well as the increased capital inflows from the mainland through the Shanghai-Hong Kong and Shenzhen-Hong Kong Stock Connect programs.
"Hong Kong is expected to raise about HK$200 billion through IPOs in 2017, the same level as in 2016," said Ho. "The Hong Kong bourse is committed to improving IPO requirements to attract more high-quality and high-growth enterprises to list."